Ada Masalı, which started as a summer series on Star TV, but whose ratings were not so bright, was not finalized thanks to the determination of the channel, and it creates wonders on social media. The series was so far ahead of its closest rival, Masumlar Apartmanı, that those who saw it could not believe it.
Adba TV, which regularly broadcasts by measuring the shares of the series on social media, was announced on Tuesday, October 19th. According to the report prepared by Adba TV, the winner of Tuesday was Star TV series Ada Masalı.
Ada Masalı, starring Ayça Ayşin Turan and Alp Navruz, has not been doing well in the ratings for a long time. Although its closest rival, Kanal D's series Baht Oyun, received higher ratings, the continuation of Ada Masalı while making the final is shown as Star TV's determination.
Although Ada Masalı gets bad results in the ratings, it does not give up its leadership on the social media on Tuesday night. Same thing happened last night. Star TV series managed to surpass Masumlar Apartmanı, which came first in all categories in the ratings last night, on social media.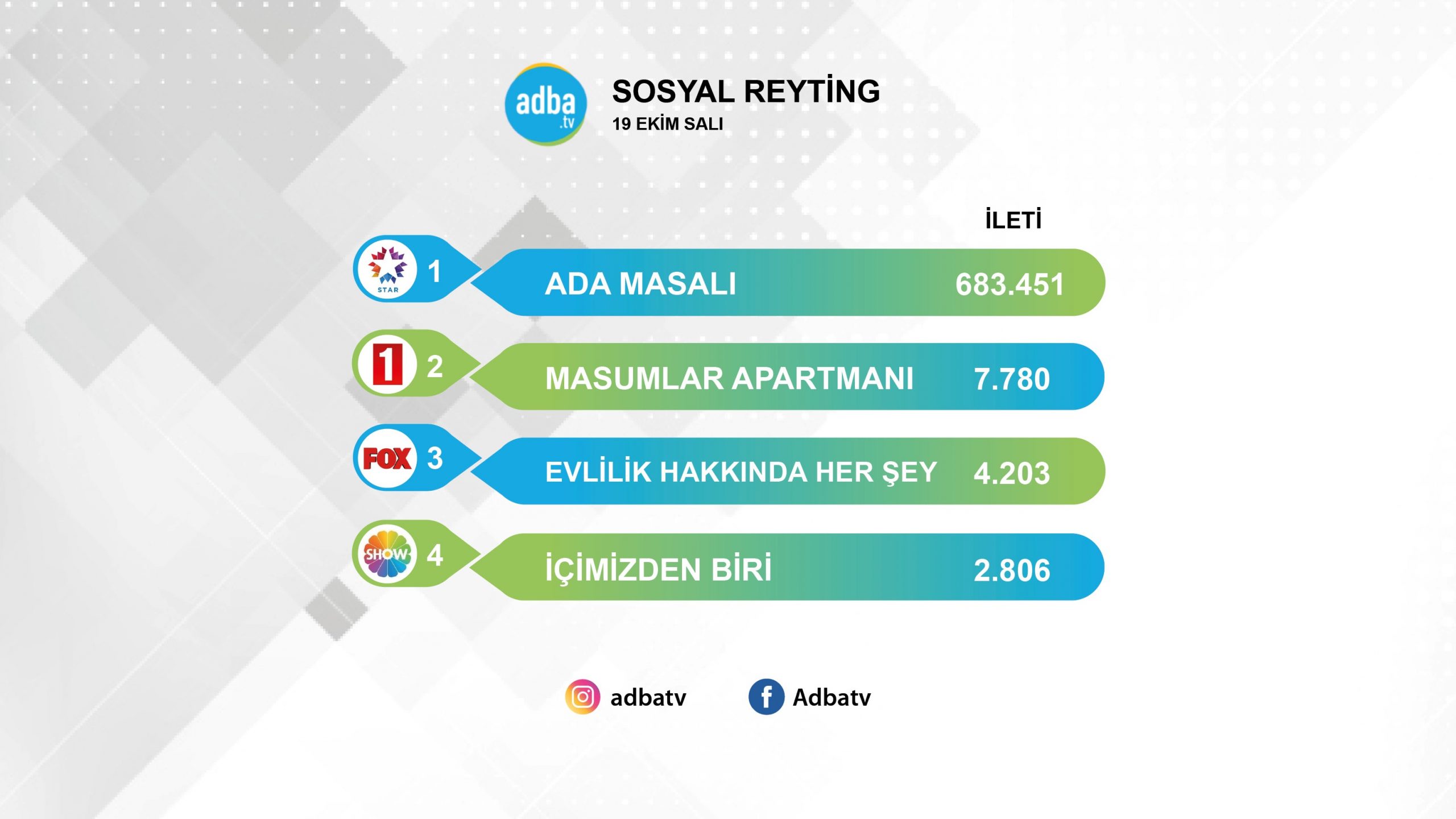 The number of posts about Ada Masalı on social media during the day was 683 thousand 451. The number of shares made about the TRT series Masumlar Apartmanı, which was the first in the rating, was only 7,780. In other words, there were almost 100 times more posts about Ada Masalı than Masumlar Apartmanı.
Fox TV series Evlilik Hakkında Her Şey, which started very well in the ratings but attracted attention with its decline this week, remained weak on social media as well. The number of shares made about the series starring Gökçe Bahadır and Sumru Yavrucuk remained at 4,203.
Saying goodbye to the screens last night, Show TV series İçimizden Biri was the last of the night. 2 thousand 806 shares were made about the series, which said goodbye to the audience with its sixth episode.