Kuş Uçuşu (The Bird Flight) series shot for Netflix was released in June. While the 8-episode series impressed the audience, Birce Akalay's acting also remained on the agenda. Akalay was giving life to a completely different character in the Netflix series Mezarlık (Cemetery), which was broadcast a few weeks apart, and the audience kept the actress on the agenda of social media for a long time with her performance in both series.
The successful return of the series in the broadcast countries was also pleasing. Birce Akalay met İbrahim Çelikkol, with whom she was a partner in Siyah Beyaz Aşk (Black White Love), years ago in the Kuş Uçuşu series. Those who watched Kuş Uçuşu, in which Miray Daner also took the leading role, began to convey their messages on social media that the continuation of the series should be withdrawn.
While the news of a new season about the popular series made the audience happy, it was an even more pleasing statement that İbrahim Çelikkol recently brought up the possibility of shooting the third season of the series.
Birce Akalay received great acclaim in the character of Lale Kıran, who gave life to an experienced journalist in the TV series Kuş Uçuşu and talked a lot with her programs. While the new season shootings of the series were eagerly awaited, a sharing made by the actress also revealed the possibility that the shooting had begun!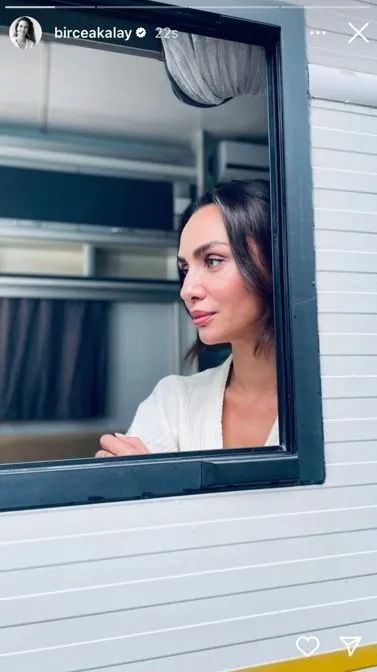 İbrahim Çelikkol said, "We will probably start shooting the second and third seasons of Kuş Uçuşu." Sharing a pose of Birce Akalay taken in the trailer after her words brought the guesses that she was on the set.
Birce Akalay has been giving interviews to various magazines as a name that has come to the fore with her TV series lately.
There is also the possibility that the photograph taken in the trailer is from a magazine's fashion shoot… The viewers are excited for the new episode shots from the Kuş Uçuşu series. Although the shooting date of the series is not clear for now, Birce Akalay's fans, followers are excited for Kuş Uçuşu in every photo and post from the set…