Kanal D's Ay Yapım series, which is followed with admiration every week and broke the rating records, continues to be talked about with its story and acting.
The series, which came to the screen with its 38th episode on Sunday evening, 9 October, again locked the audience on the screen with an exciting episode. At the end of the episode, the moments when the character of 'Ceylin' played by Pınar Deniz was kidnapped was watched breathlessly.
At the end of the episode, the audience began to look for answers to many questions such as "who missed why". In the trailer of the 39th episode, which will be broadcast on Sunday, October 16, details that give the impression that Ceylin was abducted by the psychopathic killer who started a new family came to the fore.
Pınar Deniz shared images from the new episode on social media and said, "The game is starting. My brain burned out while trying to solve it, good luck to you".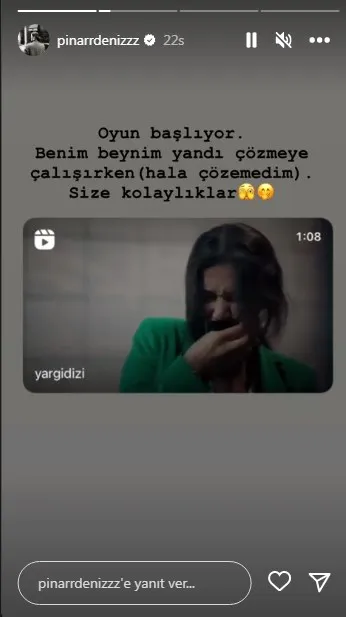 The helplessness of Ilgaz is also revealed in the trailer. The distraught state of Ilgaz, who had a hard time telling his mother that Ceylin was kidnapped, hurt the audience.
The audience will witness very exciting moments in the new episode of the Yargı series, which was broadcast on Sunday evenings and attracted great attention, to be broadcast on Sunday evening, October 16. Ceylin's abduction in the new episode of the series will change everything in an instant.
Yargı is on Kanal D with its highly anticipated new episode on Sunday, October 16 at 20:00.