Famous actress Hande Erçel, like many of her colleagues, took part in aid collection organizations for the disaster victims after the earthquake on 6 February that affected 11 provinces.
The actress, who worked hard for days, won the appreciation of everyone both with her messages that she interacted with on social media and by taking part in one-to-one coordinations.
Along with organizations such as İhtiyaç Haritası (Needs Map) and AHBAP, together with volunteers, the actress also participated in the Turkey One Voice campaign and tried to collect aid for earthquake victims. Erçel still continues her support activities in the light of the information coming from the earthquake area.
Not only that, Hande Erçel also signed a special study on behalf of earthquake victims. Those who follow the actress closely know that Erçel, who graduated from Mimar Sinan Fine Arts University, Department of Traditional Turkish Arts, is talented in painting.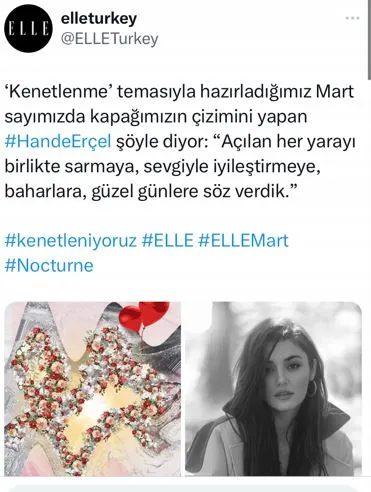 Hande Erçel, who includes her drawings from time to time in her posts, finally made this talent speak for earthquake victims!
The actress drew attention with her design pointing to the earthquake zone that affected 11 provinces on the map of Turkey. In the design designed for the cover of Elle Turkey magazine and made with the theme of 'Connection', the actress placed two balloons representing the balloons tied on the debris in memory of the children who died in her design, which wraps the region like a belt and is adorned with flowers.
While this design, which moved everyone, was published on the cover of the March issue of Elle Turkey magazine, it was discussed that this design would be printed on a t-shirt by the clothing brand Nocturne, of which Hande Erçel has been the face for a long time, and the income would be used for earthquake victims.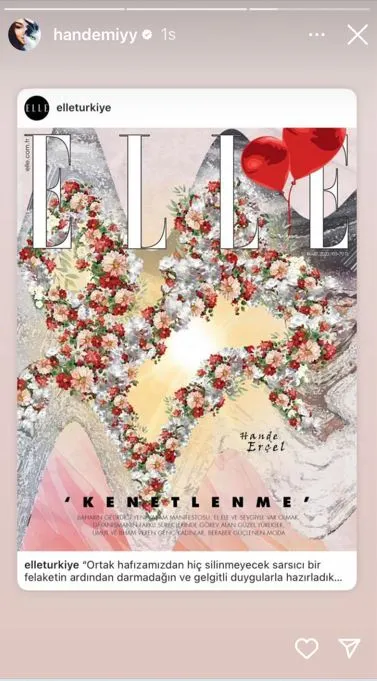 Hande Erçel's design was to be offered for sale to be used in the studies carried out by the Hatay-based Füsun Sayek Health and Education Development Association to heal the wounds in the earthquake zone. Erçel's fans were eagerly awaiting the t-shirts featuring this special design.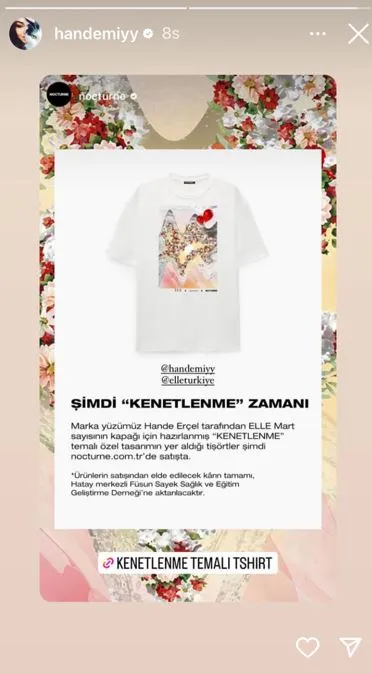 Finally, Hande Erçel shared about the t-shirts offered for sale! The design, whose meaning is both very sad and has a special meaning for embracing the pain, was eagerly awaited by Hande Erçel's fans as well as for those who want to support earthquake victims…