After TV series shot in Turkey gained great popularity abroad in recent years, Turkish actors became more well-known around the world. The fact that our TV series are widely watched in many regions from Latin American countries to the Middle East also provides a distinct advantage for Turkish actors. Actors, who are welcomed as world stars in many countries they visit, are increasing the number of their fans, especially with the spread of digital platforms and the attention of TV series and movies shot in Turkey.
Many names in social media manage to become TT in the world with their TV series and movies. Turkish actors, who are growing their fan bases, continue to increase their recognition coefficient in the world with productions shot for platforms such as Netflix and Disney Plus, as well as Bein Connect and Amazon Prime.
For a long time, Turkish actors also enter the regular Starmetre rankings of IMDB, an online database containing information about movies, TV series, television shows, video games and internet content.
The names in this week's ranking of Turkish actors in IMDB Starmetre also draw attention. Starmeter is a statistic on IMDB that gives actors the ranking of the number of clicks and popularity on the site.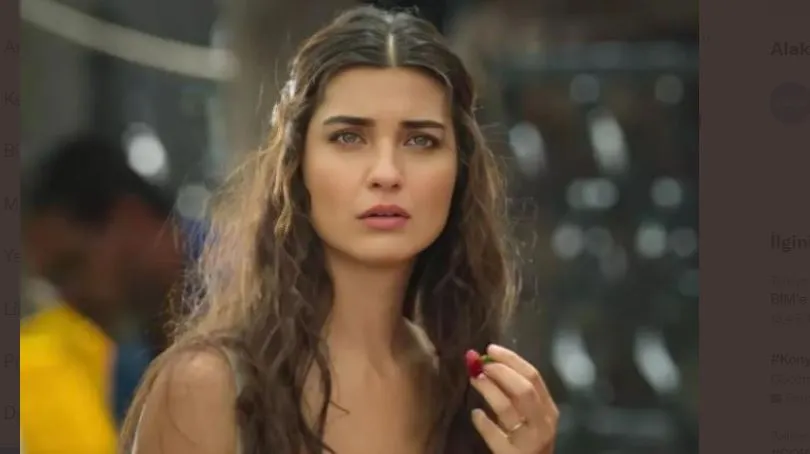 According to the data of the week, Hande Erçel ranks first among the Turkish actors with the highest popularity. The name that follows her is Tuba Büyüküstün, who is currently on the agenda with Netflix's Zeytin Ağacı (Olive Tree / Another Self) series.
Kıvanç Tatlıtuğ was also talked about with the latest Netflix series Yakamoz S-245 and the movie Aşıklar Bayramı (Lovers' Day). Hazal Kaya stars in the Midnight at the Pera Palace series, which was also shot for Netflix, and the movie Benden Ne Olur (What Happens to Me?), which was shown on Disney Plus. with on the agenda.
Can Yaman, who talked about his new series in Italy and El Turco, which will be shot for Disney Plus, is also in the 5th place of his high school. Demet Özdemir, who is on the agenda with the TV series Dünyayla Benim Aramda (Between the World and Me), aired on Disney Plus after the Love Tactics movie shot for Netflix, is also in the 6th place.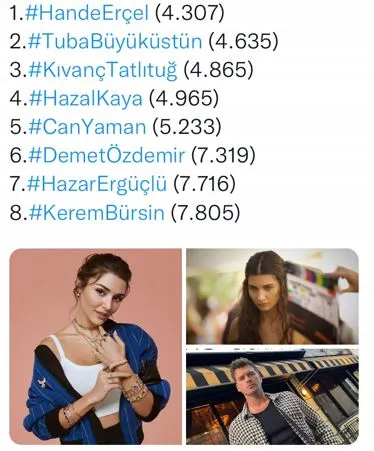 Hazar Ergüçlü enters the list at the 7th place. The movie that made the actor talk a lot lately was Gönül, which was broadcast on Netflix.
Kerem Bürsin has also become a popular name in many countries of the world after the latest Sen Çal Kapımı (Love is in the Air) series aired in more than 80 countries. Finally, during his visits to Spain, the actor is welcomed like a Hollywood star. Kerem Bürsin is in 8th place in imdb's starmeter list…
In the continuation of the list, İbrahim Çelikkol ranks 9th, Esra Bilgiç 10th, Pınar Deniz 11th, Aras Bulut İynemli 12th, Dilan Çiçek Deniz 13th, Beren Saat 14th and Cansu Dere 15th…