Famous actress Hazal Kaya attracted attention with her call to a name imitating her on her Instagram page. Although Hazal Kaya is distant from social media for a period, she has been using it extensively for a few years.
Especially the fans of actress, who shares a lot on her Instagram account, are very pleased with this situation. Hazal Kaya, who came to the screen with the "Misafir" series, is also currently "Benden Ne Olur?" She is also on the agenda with her movie titled.
Hazal Kaya has recently attracted attention with a post she made on her Instagram page. Kaya liked the imitation of the actor named Cansu Karaca, who imitated her in a program, so much that she moved the video to her page.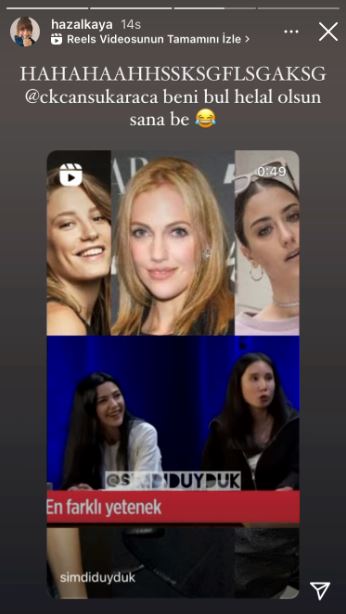 The actress, who also showed that he laughed a lot at Karaca's imitation, said, "Find me, good luck to you!" supported by her words. Cansu Karaca, along with Hazal Kaya, was imitating Serenay Sarıkaya and Meryem Uzerli so successfully that she amazed everyone who saw her.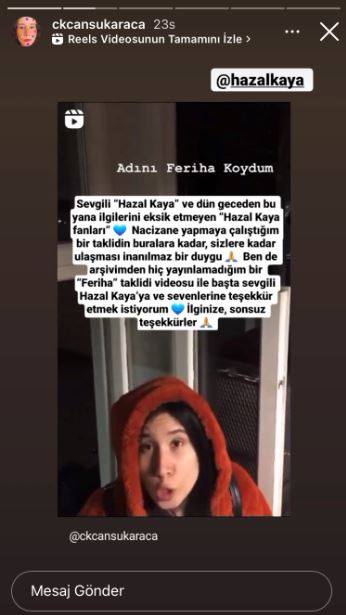 After Hazal Kaya's posts, Cansu Karaca's videos went viral. The imitations she made in Telling Man on Youtube began to be watched by thousands of people. Hazal Kaya's fans also showed great interest and Cansu Karaca also thanked Kaya's fans and shared an imitation of Kaya's name from Feriha…
Cansu Karaca also thanked both Hazal Kaya and her fans. Here is that video of Cansu Karaca imitating famous names…