Kerem Bürsin, who reached a large fan base in many countries of the world with his romantic comedy series called Sen Çal Kapımı (Love is in the Air), became a very popular person especially in Spain and Spanish-speaking countries.
Kerem Bürsin went to Spain last year for new pursuits in acting and had the opportunity to meet Spanish actor Antonio Banderas, whom he admired, as well as various visits. These ties that the famous actor established in Spain are now reflected as a step of kindness after the earthquake disaster in Turkey.
Kerem Bürsin's Spanish fans started an aid campaign to heal the wounds of citizens injured in the earthquake disaster in Kahramanmaraş. The fans started to collect donations through the AHBAP Association, stating that they are carrying out an international donation effort.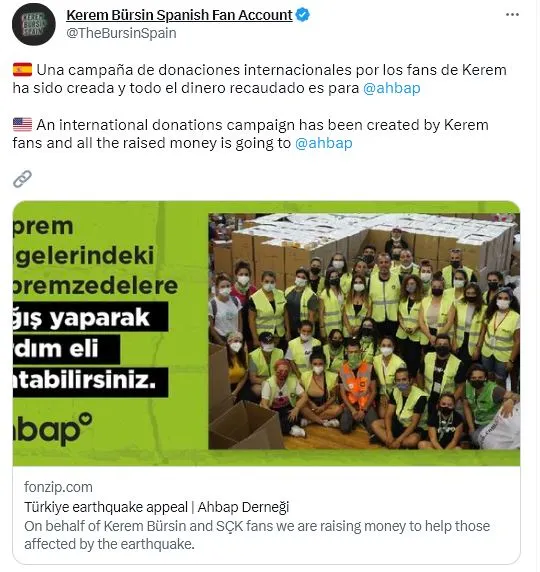 Kerem Bürsin also showed his gratitude by saying "I love you" for this charity work done on his twitter account.
Responding to Kerem Bürsin's post, the fan page included the following statements:
"Nothing we do will be enough to help all the people affected by this tragedy. You are an inspiration to all of us, thank you for being that way."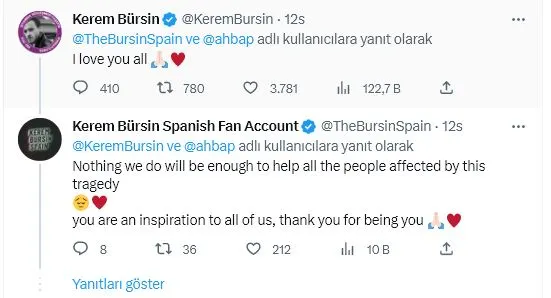 It is seen that around 130 thousand TL was collected in this aid effort and the campaign continues.
Kerem Bürsin also donated 200 thousand TL to the AhbapAssociation in the first days of the earthquake to be used for the needs of the citizens affected by the earthquake.
The actor also shared a video in English and called for help internationally.
This call of the actor had a great impact on social media and contributed greatly to aid activities.
PLEASE SPREAD THE WORD! https://t.co/ED44DMr37C

DONATE VIA BANK TRANSFER:

SWIFT: ISBKTRIS

İş Bankası EUR Account
1021-2150277
IBAN: TR150006400000210212150277

İş Bankası USD Account
1021-2150262
IBAN: TR320006400000210212150262 pic.twitter.com/VCPYjRADbm

— Kerem Bürsin (@KeremBursin) February 8, 2023