We are watching Mert Ramazan Demir as the male lead of the Yalı Çapkını (Golden Boy) series, which was broadcast on Star TV and left its mark on Friday evenings. In addition, Demir, who has become one of the most talked about names this season with the Şahmaran series broadcast on Netflix, exhibited a great career debut.
Mert Ramazan Demir, who reunited with Afra Saraçoğlu, with whom he was a partner in the TV series, a few years later, impressed millions of viewers with the character of Ferit.
The actor, who managed to become one of the most popular TV series actors in a short time with his successful performance, has always been at the top of the "most popular male actors" list on social media.
We see Mert Ramazan Demir as the most popular male actor in the evaluation made by Adba TV, covering the dates of 31 May – 6 June and based on the number of messages. Demir, the shining star of the season, crowned his success on social media with 41,800 messages.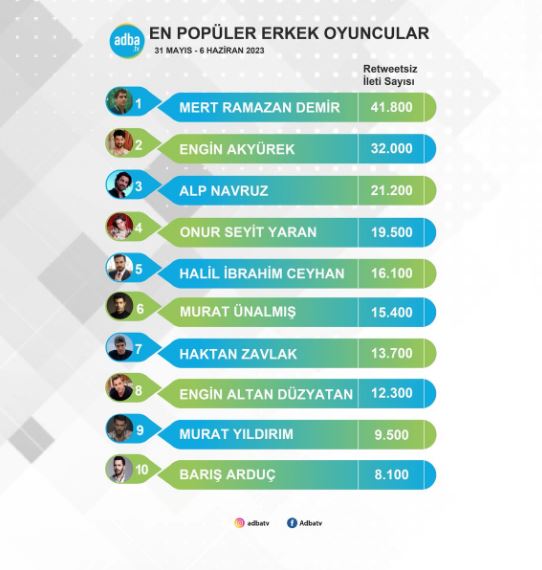 Mert Ramazan Demir, whose fans are curious about almost every detail, who encounters comments on social media over every scene of the series, and who has millions of young fans, also deserves to be the best debuting male actor of the 2022-2023 season.
The actor, who successfully portrayed the different emotions of Ferit's character in the story, as well as getting along very well with Afra Saraçoğlu in the Yalı Çapkını TV series, made good use of the opportunity to showcase his talents.
In Adba TV's research, Engin Akyürek, the star of the "Adım Farah" (My name is Farah) TV series, ranks second.
Alp Narvuz, the leading actor of the TV series Yürek Çıkmazı (Heart Impasse), which started this season with very good ratings, but was decided to be the final because he could not stop the loss of viewers in the last period, is in the third place of the list.