Özge Özpirinçci, who is preparing to return to the sets after a long break, will soon appear on the television screen with a new series project called Sandık Kokusu (The smell of the chest).
Özge Özpirinçci, who preferred to rest for a while and take care of her daughter after giving birth to her daughter Mercan, will be on the television screen again in the new season.
Özge Özpirinçci, who has played successful roles in many projects since 2008, was one of the names that the audience wanted to return to the screen the most.
Özge Özpirinçci, who played the leading role in unforgettable TV series such as Al Yazmalım, Aşk Yeniden, Kadın, also enchanted her fans with many movies.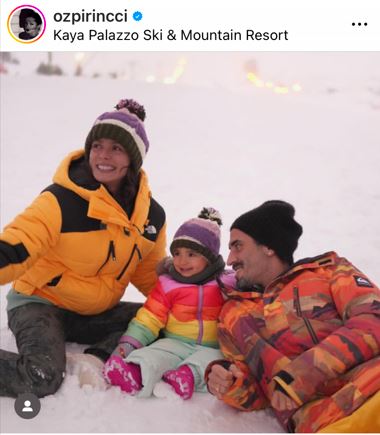 Özge Özpirinçci, who has recently chosen to take part in digital series named İlk ve Son and Yakamoz S-245, is returning to television series with Sandık Kokusu, 3 years after the Kadın (Woman) series, which made its final in 2020.
Sharing about her new series on her social media account, the actress announced that the story attracted her to the project, but now she is very pleased with her co-stars and feels good.
Here are Özge Özpirinçci's words that pleased her fans: "The script I read when accepting Sandık Kokusu was the most important thing for me! Every conversation I had with the team that would bring it to life increased my excitement and made me feel safe at the same time. But no one told me that I would have such wonderful actor friends."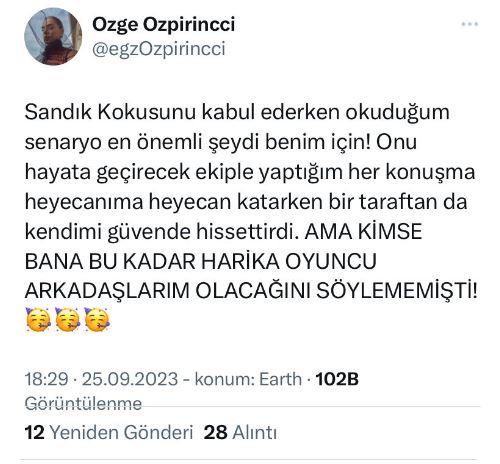 Necip Memili and Metin Akdülger are among the cast of the TV series Sandık Kokusu, which will be broadcast on Show TV. It was also reported in the press that an offer was made to a master actress like Demet Akbağ.
You will watch Özge Özpirinçci in the character named Karsu in the TV series Sandık Kokusu, which will stand out as the story of a mother and her daughter.
The new series, which is expected to start shooting in mid-October, will be a very different test for Özge Özpirinçci, who gave birth to her daughter named Mercan in November 2021.
The Sandık Kokusu series, which will start with a birth scene, seems to have been especially preferred by the famous actress because it is the story of a mother and her daughter.