It draws attention that the experienced actors of the TV series Gönül Dağı, which continues to be shot in Eskişehir's Sivrihisar district, and young names create a strong synergy. The series, which impressed the audience with its story and achieved very successful results in the ratings, also achieved effective ratings in the second season.
We can see from the rating results that one of the two most successful TV series of the season is Kuruluş Osman and the other is Gönül Dağı. A new one was added to the awards that came with the show that brought great pride to TRT1 by highlighting the young actors.
This award means to reward the efforts of the team, especially in the effort to use Turkish correctly. Within the scope of the "Yunus Emre and Turkish Language Year" announced by the Presidency, the "Turkish Awards" realized by RTÜK were distributed. At the ceremony, Gönül Dağı TV series was also deemed worthy of an award for being the best Turkish TV series.
While Gülsim Ali İlhan and Berk Atan proudly carried the award, it was once again revealed that the crew of the series paid attention to every word. Gönül Dağı, who won this award for his correct use of Turkish, also gave a very important message to the audience.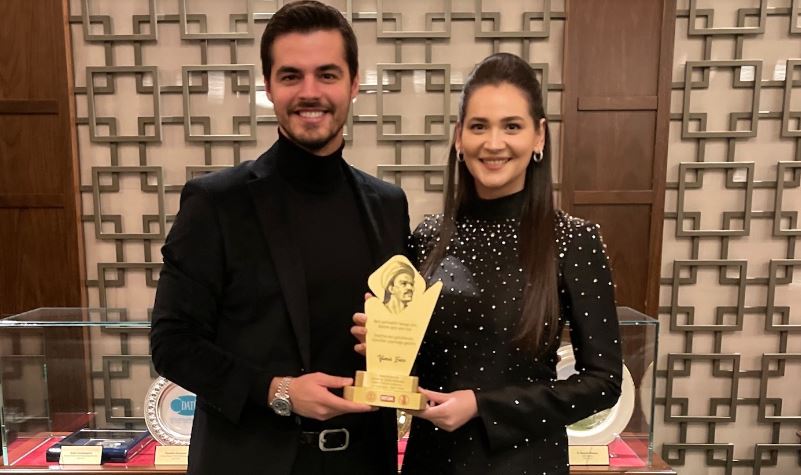 With the development of the digital age, social media has become widespread and many errors have emerged in the use of Turkish.
This award was also very valuable for the team… We can say that the Gönül Dağı series is an effective medium for children and young people to use Turkish correctly and to speak well.
The producer of the series, Ferhat Eşsiz, said, "We, together with our screenwriters, carefully choose every sentence and even every word in our series. We also receive appreciation from our viewers in this regard. We receive messages of thanks from our viewers that Gönül Dağı uses a beautiful Turkish language, which makes us very happy."
The Gönül Dağı series deserves appreciation not only for its story and successful acting performances, but also for its strong message about using Turkish correctly.