Teşkilat (Organization) action series completed its third season on TRT1 screen. In the first two seasons, Çağlar Ertuğrul took part in the story with the character of Serdar as the leading male actor. However, after the actor left the project, the audience was worried that the project might not continue. However, the producer's bringing a much-loved name like Murat Yıldırım to the Teşkilat series with the character of Ömer and the good harmony with Deniz Baysal opened a brand new opportunity for the series.
The Teşkilat series, which was broadcast on the TRT1 screen on Sunday evenings, lost power with its falling ratings towards the end of the second season. However, Murat Yıldırım attracted a large audience to the series from the beginning of the third season, and the Teşkilat project repeated its successes with very good ratings and first places throughout the third season.
Now, it is starting to wonder what will happen after the third season finale of the series. Because there is a message that the series will not end and that everything has just begun, The Teşkilat series fans have already started to wait impatiently for the 4th season.
In the first three seasons, which lasted 79 episodes, the action-packed scenes enchanted the audience. However, the message that this will not stay here was announced on social media with the following statements:
"79 episodes, dozens of operations, breathtaking minutes… Hold tight! We just have begun. Endless thanks to our audience who did not leave us alone. See you in the new season."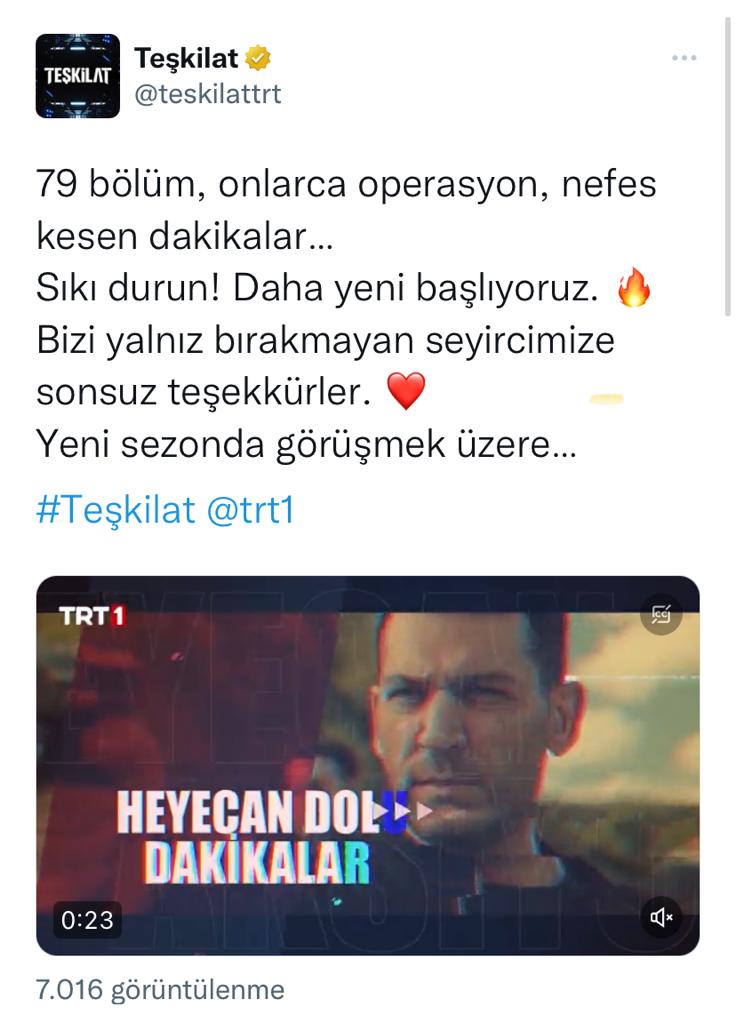 As can be understood from this message, The Teşkilat series will continue on its way. With the strong harmony of the Murat Yıldırım and Deniz Baysal duo, the project, which went from success to success in the third season, has a clear path.
It stands out as a project that can achieve success with the participation of a brand new story and actors in the fourth season of the Teşkilat series.
It would not be wrong to say that the duo of Murat Yıldırım and Deniz Baysal had a very successful season at this point, attracted the audience to the screen and are at the peak of their careers.