Burak Özçivit and Fahriye Evcen, one of the favorite couples of the art world, impress with their happy marriage. The news that their second child is on the way after their son Karan also revealed that they were at the time when the couple decided to expand their family and why Fahriye Evcen left the Alparslan Great Seljuk TV series.
Burak Özçivit and Fahriye Evcen fell in love in the TV series Çalıkuşu 9 years ago and then got married. The couple's son, Karan, who got married in 2017, was born in April 2019. It was recently reported in the media that Fahriye Evcen is pregnant and expecting their second baby.
Just at a time when they were experiencing the excitement of a new baby, the couple faced some allegations that they had a fight on social media and Evcen left the house! Along with a rumor made by people claiming to be their neighbors, the couple felt the need to make a statement in the face of this annoying situation.
According to the allegations; Fahriye Evcen, who was in tension with her mother-in-law, then argued with Burak Özçivit and left the house. After these news, Burak Özçivit published a very harsh message.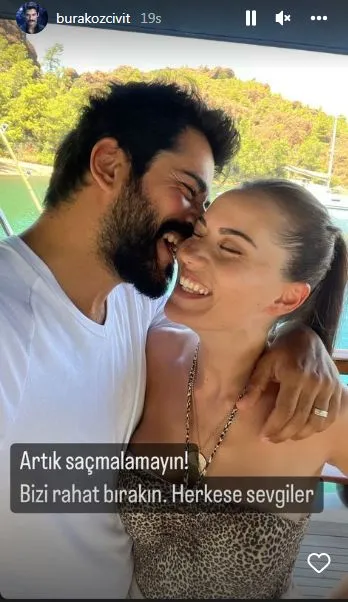 Özçivit posted a photo of him hugging his wife Fahriye Ecven on his Instagram account and said, "Don't be silly anymore, leave us alone! Love to all" dropped the note.
After this message, Fahriye Evcen published her husband's share on her own account. It was understood with this message that the famous couple were very upset and angry at the unfounded news about their marriage.
In the meantime, the couple, who said that the news of the new baby was a surprise a while ago, said, "We also just learned. We are incredibly excited. We are very happy. It's so new that we didn't even get a chance to tell Karan. We are not in the 'girl or boy' mode. It is enough to be a good son for a healthy country and nation." they had spoken.