The Üç Kız Kardeş (Three Sisters) series, broadcast on Kanal D screens, was not expected in the first days of its release. The series, which reached the peak of Tuesday evenings in a few episodes, almost dethroned ATV's Destan (Epic) series, which has attracted great attention since the beginning of the season.
Adapted from İclal Aydın's novel of the same name, the series won the hearts of the audience with its drama story. With the 8th episode of the series Üç Kız Kardeş, which was shot in Ayvalık, it is seen that it did not leave the top to anyone in the Total and AB categories.
While the Destan series was sitting on the first throne for a long time, it fell to the second place with the arrival of the Üç Kız Kardeş. With the attack of Survivor All Star, Destan fell to the 3rd place in Total this week. It ranked 6th in the AB and 5th in ABC1.
However, despite this decline in the rating, social media support is so strong that it continues to outstrip its other competitors every week. The Üç Kız Kardeş series, on the other hand, does not receive social media support as much as the Destan series.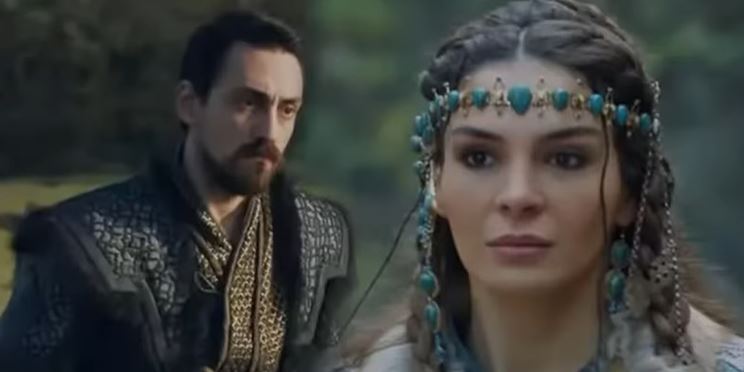 The story and acting of the series starring İclal Aydın, Reha Özcan, Özgü Kaya, Berker Güven, Almila Ada and Melisa Berberoğlu are appreciated. Filming in Ayvalık continues with the moral support given by the ratings. However, there is little support for the series on social media.
According to the data of the social media measurement service Adba TV on April 12, the Destan series starring Ebru Şahin has left its mark on the day!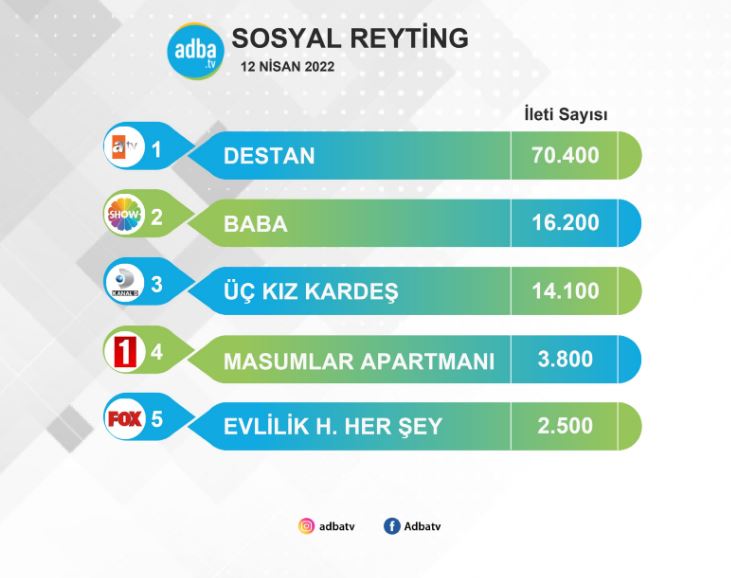 With 70 thousand 400 messages, the series of Destan sets itself apart from its competitors. Because 16 thousand 200 messages have been sent to Show TV's Baba (Father) series, its closest rival on social media. In the third place, Üç Kız Kardeş, 14 thousand 100 messages were received.
Evlilik Hakkında Her Şey (Everything About Marriage) with Masumlar Apartmanı (Innocent Apartment), which was published the same evening, falls behind the table with very low number of messages.
With this picture, being in a very good position in the ratings does not mean being at the top in social media at the same rate. In addition, this picture also reveals that the Üç Kız Kardeş series is the first in the rating, but the social media interaction is low.