Akın Akınözü, who is one of the prominent successful male actors of the last period, is followed with enthusiasm by his fans for his role in tv8's Tuzak (Trap) series. The actor has been in the first place for a while among the most popular male actors of the last period!
The huge fan base he gained with Hercai expanded and reached millions in the international arena. TV series featuring Akınözü are increasingly being talked about on social media, and comments about him are coming to the fore.
Along with these comments made by domestic and foreign fans, the number of messages received by the actor in the measurements made by various platforms stands out!
Akın Akınözü has been on the list since the start of the Tuzak series, in the "Most Popular Actor" chart regularly created by Adba.tv! The actor took the throne of Onur Seyit Yaran, one of the young generation actors of the long-time Kardeşlerim (My Brothers and Sisters) TV series, which he did not leave to anyone for months, and became the most popular name in a short time.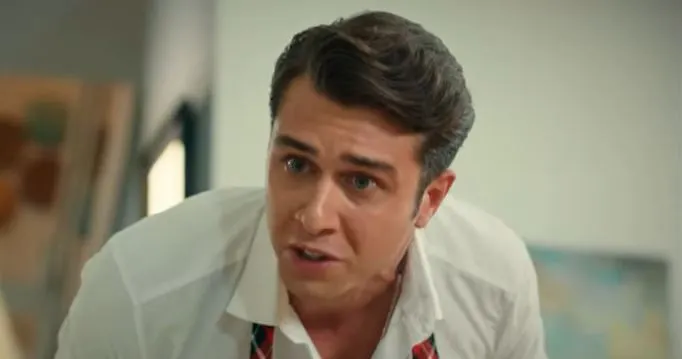 It is seen that Akın Akınözü was again the player who received the most messages in the measurements made during the week of 21-27 December!
Onur Seyit Yaran, who ranks first with 76 thousand 700 messages, is followed by Akınözü with 70 thousand 300 messages! A while ago, Onur Seyit Yaran had fallen back a few rows.
However, it seems to increase its popularity again. Yaran came to replace Halil İbrahim Ceyhan, who took second place, but the situation has been changing in the last few weeks!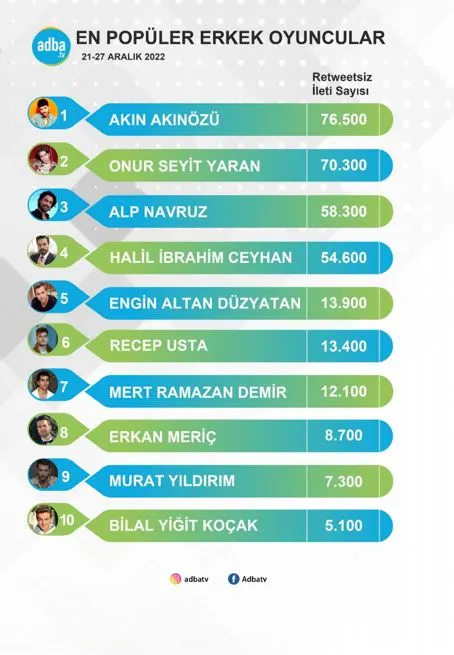 This time, Alp Navruz, the name that entered the table from the top, challenges Akınözü and Yaran as a strong opponent! Navruz, whose number of messages was seen to be 58 thousand 300 in the last week, is very popular with his role in the TV series "Yürek Çıkmazı" (Heart Impass) on TRT1.