Aybüke Pusat, who came to the screens with ALEF: Mâl-i Hülya, the second season of the mystical detective series ALEF, which was broadcast on BluTV on April 7, added new ones to her social media exposures.
Actress Aybüke Pusat, whose star shines in the Medcezir TV series, appeared in front of the audience with the character of "Güneş" in the series Hayaller ve Hayatlar (Dreams and Lives) by NG Medya, which started to be broadcast on beIN CONNECT last month.
The beautiful actress, who made a name for herself with the successful projects she took part in, is also very active on social media. The actress also revealed her beautiful physique in her latest post on her Instagram account.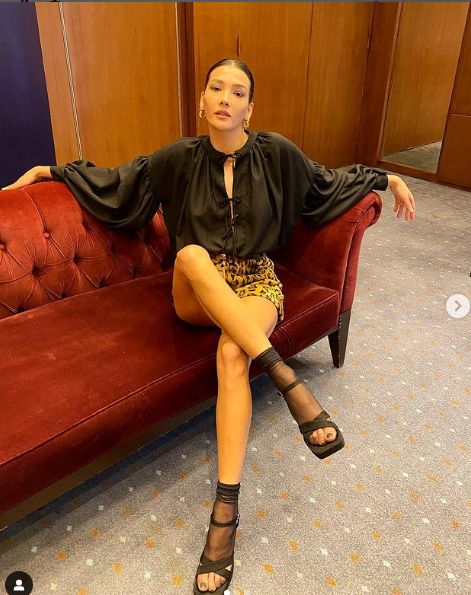 Aybüke Pusat drew attention with her extraordinary style in sharing her leopard-print shorts with thin socket socks and sandals. The sharing of the famous actress also received hundreds of thousands of likes, along with commendable comments from her fans.
The beautiful actress takes her fans on a mystical journey in pursuit of secrets, codes and truth that have survived from the dusty shelves of the past with her latest project ALEF: Mâl-i Hülya.
Gökhan Tiryaki sits in the director's chair of the series signed by MAY Productions. The script of ALEF: Mâl-i Hülya, whose music was composed by Mercan Dede, as in the first season, was written by Itır Arda and Avni Tuna Dilligil. Famous director Mustafa Altıoklar served as a dramaturg.
The series began broadcasting on BluTV with its first four episodes on April 7. In the series, starring Taner Ölmez and Aybüke Pusat, a strong cast including Hande Soral, Serdar Orçin, Mehmetcan Mincinözlü, Emel Çölgeçen, Çiğdem Selışık Onat, Cankat Aydos and Ahsen Türkyılmaz takes part.