Famous actress Hande Erçel has been talked about with her poses in Cannes recently, and has also been on the agenda of social media with her re-partnership with Burak Deniz in the TV series İki Yabancı (Two Foreigners).
Stating that it is very important for young people to see herself as a role model, the actress made remarkable statements in an interview with Ömür Sabuncu on Show TV. Hande Erçel said, "I am in my 10th year in this sector. Young girls, who have been watching since the first day, wanted to be inspired and saw the reward for this, make me feel like I'm doing this, I'm glad I will continue to do this," she said.
Expressing that she is very proud if she can be an inspiration to young girls, Hande Erçel also said that she is skillful in the kitchen. Explaining that she made the beans well, the actress also said that she tried to write a story, but she did not show what she wrote to anyone and she was not assertive about it.
Hande Erçel, who loves to go somewhere alone with her girlfriends, also said that when she wants to be alone, she secretly goes somewhere and gathers energy.
Explaining that she loves sage and burns the seeds of beauty, Hande Erçel said, "I believe in such things, I need that energy cleansing."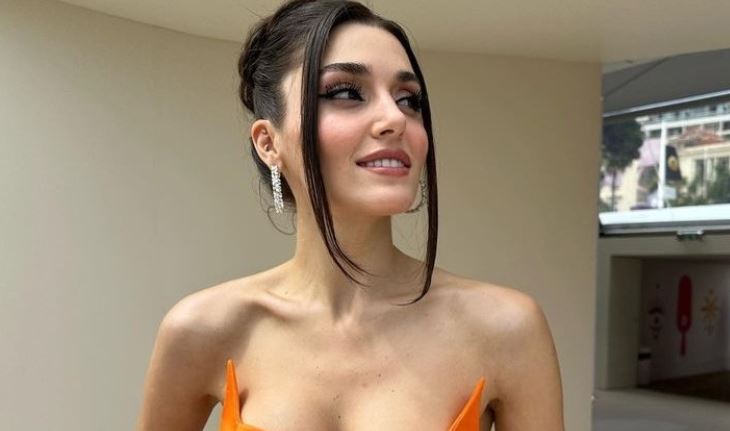 Explaining that she is not someone who messes with herself much, she likes to clean her skin, but does not put in a lot of effort, Hande Erçel also draws attention with her dressing style.
The actress said that she especially likes black clothes and that she is not a very colorful person. Explaining that she loves wearing clothes in white, red and midnight blue, the actress also stated that she is obsessed with the color black.
Saying that she does not see the social media environment as a business area, Hande Erçel said that she shared what she wanted and did not describe it as a business area.
Acknowledging that she has had difficulties in her life, the actress has been feeling better lately and reveals this with the following words:
"I went through very difficult times for a very long time. After going through such a thing, a person says to herself, "You have to continue, you have to continue in the same way you have been until now". When I felt that those bad days were over, I said 'yes, my life is beginning'. This has happened recently."