Actress Berrak Tüzünataç has been away from television screens for the last few years. The new project of the actress, who recently appeared in the Kurşun series with successful names such as Engin Altan Düzyatan, Burçin Terzioğlu and Sarp Akkaya, was eagerly awaited by her fans.
Berrak Tüzünataç, who made her debut with the character of Bade in the Ezel series, which was broadcast in 2010-2011 and featuring master actors such as Kenan İmirzalıoğlu, Cansu Dere, Yiğit Özşener, Barış Falay, Tuncel Kurtiz and Haluk Bilginer, has not made a new project agreement in recent years. She made a name for herself on social media with her artistic works.
The highly anticipated new project of the beautiful actress has been announced. Berrak Tüzünataç said yes to the project Hayallerim, Babam ve Sen (My Dreams, My Father and You), one of the new season series of Kanal D, which is preparing to enter the summer season like a bombshell. Ozan Dolunay will accompany Tüzünataç in the lead role of the project.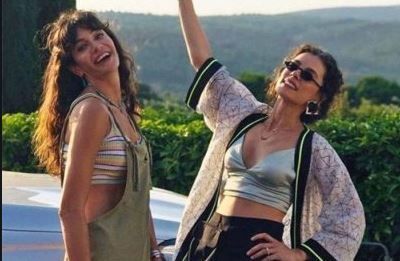 Cevdet Mercan, who has produced successful TV series such as Kanunsuz Topraklar, Şeref Sözü and Zalim İstanbul in recent years, will sit in the director's chair of the project, which Focus Film has kept secret for now, as a drama series. Sırma Yanık will write the script of the TV series Hayallerim, Babam ve Sen.
Ozan Dolunay will play a social media phenomenon and Berrrak Tuzunataç his manager in the TV series Hayallerim, Babam ve Sen. The casting of the series continues. The project is scheduled to go live at the end of August.