Caner Topçu and Rabia Soytürk star in the lead roles of the TV series Duy Beni (Hear Me), which is broadcast on Star TV on Thursday evenings. The two young actors achieved a successful partnership process with their harmony in a short time. The impressive harmony of these two has a big share in the fact that the series "Duy Seni" received good ratings, especially in the category of all people.
Duy Beni, which started as a summer series, will enter into a strong competitive environment with the start of the winter season series as of September. In the process, you'll watch its effort to keep its audience. In particular, the situation of Kanat and Ekim characters in the story seems to be the most important factor for success as it increases the curiosity of the audience.
Rabia Soytürk and Caner Topçu, who got to know each other with the "Duy Beni" project, soon got together and managed to achieve a good rapport. Spreading a strong energy and supported by a wide audience on social media, Kanat and Ekim duo came to the fore as immersive characters in the story of the series.
A reflection of the good harmony between Caner Topçu and Rabia Soytürk appeared in the program on Onedio's youtube channel. Answering questions from their fans, the duo radiated a very sincere and very good energy.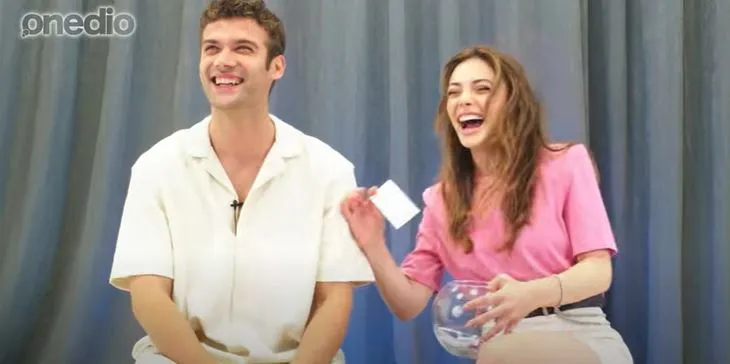 One of the questions that the fans wondered was how they became students and their unforgettable memories from their high school years. Caner Topçu explained that he was educated in a large vocational high school, where 3,000 students attend, and that the number of female students at the school was about 500, and that he spent a high school period in which male students were the majority.
Topçu stated that he was not a bright boy who stood out during his high school years, saying, "I was not hardworking in high school, but I never brought any weak people."
Rabia Soytürk also stated that she was not a person who excelled in high school years like her partner, and said: "I was not a very good student. My teachers may not remember me. But let them keep watching."
Maybe the two young actors weren't the names that stood out and talked about their success during their high school years, but they succeeded in gaining the love of millions by stepping into the acting profession and being themselves while climbing the ladder of fame.