The Çöp Adam (Stickman) series, starring Engin Altan Düzyatan and Elçin Sangu, presented one of the most gripping stories of the last season to its audience. Fans of the series, who enjoyed a great viewing, also experienced the excitement of encountering a Turkish series format that they had not seen before.
While it is difficult to predict how the events will develop in the Çöp Adam series, now the audience, who knows that the story will go to much different points in the second season, is waiting for new episodes with great curiosity.
After the first season, which was broadcast on Star TV and lasted for 25 episodes, the approval of the second season made the audience very pleased. Now there is very little time left to complete the summer break and meet the second season of the series.
The social media message of Elçin Sangu, who portrayed the character of Peri, after the changes in the story and the information about the actors who left, increased the curiosity of the audience.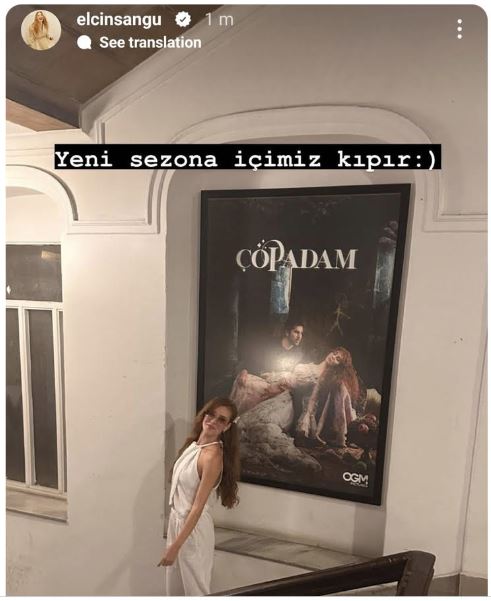 Elçin Sangu, who shared with the note "We are excited for the new season", also made those who were waiting for the Çöp Adam series happy.
Those who knew that important changes were made in the series were also impressed by the fact that the leading actor was waiting for the new season with excitement. In the social media posts, you can see the exciting posts of the audience, who stated that they were waiting for the Çöp Adam TV series to return to the screen with big surprises.
Even though there was not much information about the important changes in the story of the series, it was revealed that some actors would not be in the squad in the new season.
The production company, which parted ways with many names, embarked on an intense search for new characters with the changing story in the second season.
One of the names who said goodbye was Sedef Avcı, who played the character of Berrin. The actress, who also shared her farewell on social media, stated that she also wanted the series to be open.
It was understood that Hülya Şen, who played the character of Nesrin in the series, left, again with the farewell share she published on social media.
It turned out that names such as Selen Domaç, Fatin Koyunoğlu, Şeyda Terzioğlu said goodbye to the Çöp Adam series.
In the light of these developments, it would not be wrong to say that there will be a big change in the characters of the series and that the story will be dragged to a very different point.
Elçin Sangu and the other actors are eagerly awaiting the second season, because you will encounter a brand new story that affects them as well.
While the work for the second season of the Çöp Adam series continues, new episodes are expected to meet with the audience as of September.