Gülsim Ali İlhan had a good time as the female lead of the action series Al Sancak, one of the most important productions of this season, on TRT1 screen. Drawing a strong partnership image with Uğur Güneş, the actress returned to the television screen with a warrior female character.
The actress, who successfully appeared in the TV series Gönül Dağı (Gönül Mountain), which was also broadcast on TRT1, for two seasons, then wanted to leave the project. While the actress's appearance on the same screen with a completely different female character in the new season made the fans happy, Gülsim Ali İlhan also experienced unforgettable moments on this set.
The actress, who went to the base in Bandırma, where the F-16s were deployed during the shooting of the 12th episode of the Al Sancak series, wanted to share the excitement of her teammates, even though she did not have a role on the set that day.
The 12 episodes in which Eylül, the new character of the series, will meet with the audience as the F-16 pilot also enabled Gizem Güneş to be included in the story. Gülsim Ali İlhan, who participated in the shootings with F-16s, was among those who went to the base to see the fighting falcons, although she did not have a scene that day.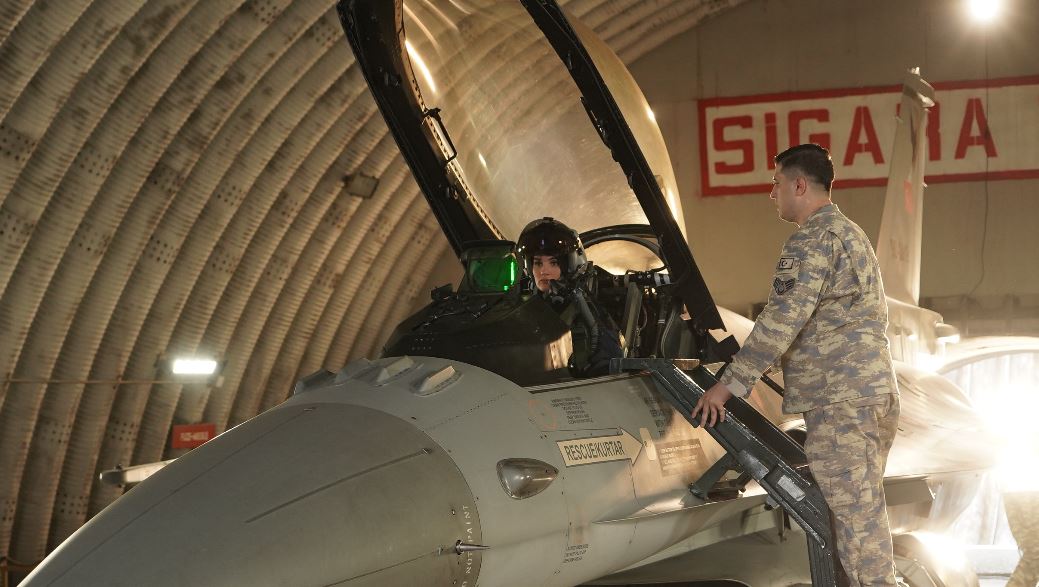 The actress stated that he had unforgettable moments and conveyed her feelings with the following words: "We have a new character in the series, the F-16 pilot. That's why we went to Bandırma and shot. Even though I didn't have a set that day, I went there too. Because I was really curious. Maybe the best set day I've ever had. It was very exciting, I had feelings that I can't explain in words and they made us experience it. It was incredible to feel the F-16s, to see them up close, to photograph them."
Uğur Güneş said that he had unforgettable moments in his life on the set of the series. The actor reminded that they were shooting with zodiac boats in the middle of the sea and said:
"It is interesting, for example, I do not know if I will experience something like this again. A submarine appeared in front of us on the zodiac boat in the middle of the sea. We will never experience such a thing again. It may be the only interesting moment in my life that I will never forget."