Two popular characters of Bir Zamanlar Çukurova, broadcast on ATV screens, left the series with a terrible death! It was recently mentioned that the story of Saniye and Gülten in the series is over and that the two actors will leave, but no one expected such an end!
Selin Yeninci, who gave life to the character of Saniye in the series, impressed the audience with her successful acting. Yeninci, who has been in the project since the beginning of the story, made Saniye very popular with her Adana accent, style and attitude and gave a remarkable performance.
Likewise, the character of Gülten has been a name in the project since the first episode of the series. In addition, Selin Genç appeared in front of the audience for the first time with this character. The TV series Bir Zamanlar Çukurova has an important place in the career of Genç, who received full marks from the audience in his first acting experience.
The departure of Gülten and Saniye was a sad and unexpected scene in the series whose 120th episode was screened last night. While trying to change the tire of the car in the middle of the road, Gülten and Saniye were hit by the car of Çolak Ağa, brought to life by Altan Gördüm, who has just joined the show.
Here is the scene of that painful accident where Saniye and Gülten died…
Saniye ve Gülten kurtulabilecek mi?#ÇukurovadaAşk #BirZamanlarÇukurova @timsandb @atvcomtr pic.twitter.com/ewSDcgghW5

— ⚜️ Bir Zamanlar Çukurova ⚜️ (@bzcdizi) January 20, 2022
The fate of the two women who were thrown on the road was a matter of curiosity. Whether they died or not was revealed in the 121st episode promotion. The funeral ceremonies of Gülten and Saniye, who died tragically, will also be very sad in the episode that will be published next week.
Along with Züleyha, the state of all farm workers and especially Üzüm and Gaffur will burst into tears. The state of Gaffur, who buried both his wife and his sister, will make hearts ache…
Here is the introduction of the 121st episode…
"Eğriye de doğruya da sen karar vereceksin…"

121.Bölüm Tanıtımı Yayında ?#BirZamanlarÇukurova yeni bölümüyle Perşembe 20.00'de #atv'de!@timsandb @atvcomtr pic.twitter.com/878dFyfPMZ

— ⚜️ Bir Zamanlar Çukurova ⚜️ (@bzcdizi) January 20, 2022
In the meantime, the two actors of the series said goodbye by sharing their feelings on their Instagram pages. Selin Yeninci thanked the whole team and the audience by saying "Goodbye Saniye" and said goodbye…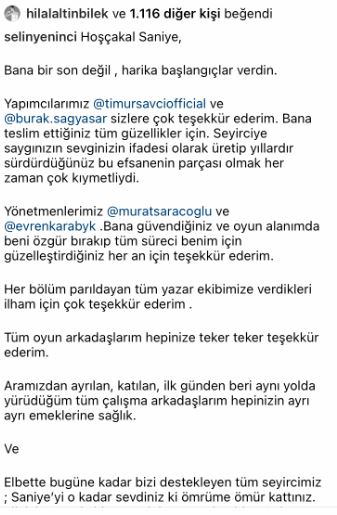 Selin Genç, in her farewell letter, which she started with Cemal Süreya's poem named Balzamin, saddened Bir Zamanlar Çukurova, who was of great importance in her professional life…