Boğaç Aksoy, who is remembered for his role as "Volkan Commissioner" in Kanal D's phenomenon series Arka Sokaklar, has been fighting lymph cancer for a while.
The actor, who is treated for lymphoma, frequently shares the stages of his treatment with his followers on his Instagram account. Boğaç Aksoy announced that they would soon start stem cell therapy in a post he shared on his social media account, after the chemotherapy, which is the first stage of his treatment, was over.
The news that Aksoy will return to the sets excited his fans. Volkan Karataş, who won international awards with the films he produced and directed, announced that Boğaç Aksoy will play the leading role in his new movie, which will start shooting in the winter months of 2022. The famous actor also carried Volkan Karataş's post on the subject to his Instagram account.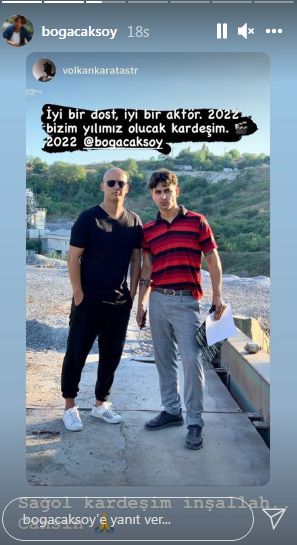 Boğaç Aksoy and Volkan Karataş went together to explore the mine where the shooting would take place. Volkan Karataş wrote "2022 will be our year, brother" in his post. It was claimed that the famous actor, who will play a scientist in the movie, started to learn Morse code for this project.
Volkan Karataş said, "This film, which I have been working on meticulously for a long time, will show what will happen in the world 100 years from now, in the light of the information I have obtained." Karataş also shared the news about the film in the Portuguese press on his social media account.