The results published by DigiLup, which researches the most talked about male actors on social media, were very surprising. Halil İbrahim Ceylan, who plays the leading role in the TV series Emanet, took the first place by eliminating his opponents.
Halil İbrahim Ceyhan, of whom more than 2 million 300 thousand messages were shared, was able to stay ahead of all his famous competitors. Who would have guessed that the leading actor of a daily series broadcast on the Kanal 7 screen could reach this point?
In the second place of the list is Akın Akınözü, the lead actor of the Tuzak (Trap) series, which made its finale last week. The actor has a very large fan base since the Hercai project, and the Tuzak series has greatly impressed the fans abroad.
Yiğit Koçak and Recep Usta, who have recently come to the fore in the TV series, shared the third place, while Onur Seyit Yaran took the fourth place. Engin Altan Düzyatan is also an eye-catching name with his successful performance in the Çöp Adam (Stickman) TV series, and he took the fourth place with more than 1 million and 100 messages in a month.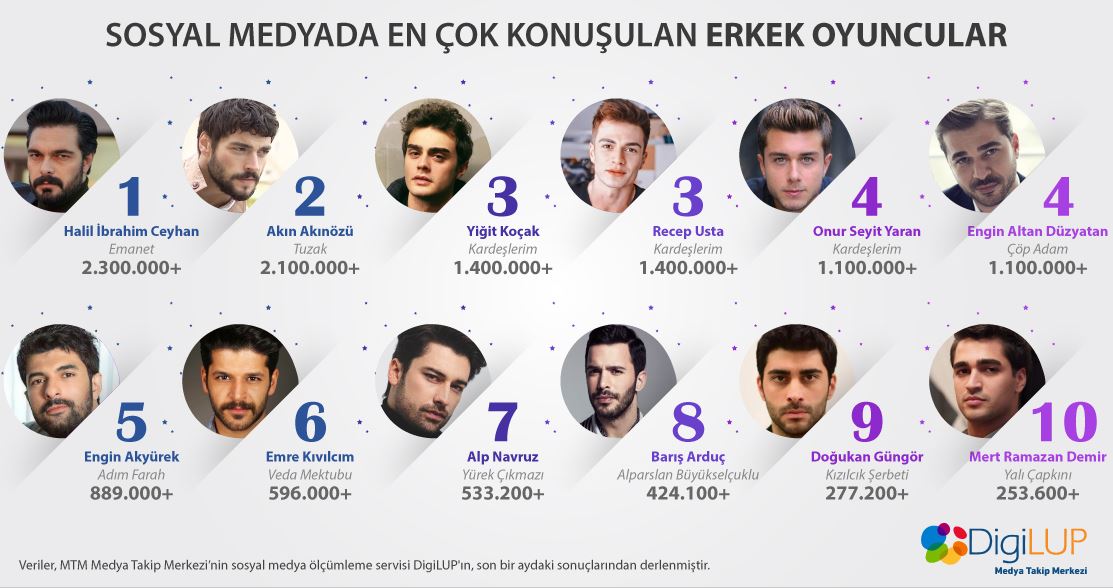 Engin Akyürek, who is on the agenda with his "Adım Farah" (My name is Farah) series, is in the fifth place of the list. In this list, where Emre Kıvılcım, one of the leading roles in the Veda Mektubu (Farewell Letter) series, is sixth, Alp Navruz, the successful name of the TRT1 TV series Yürek Çıkmazı (Heart Impasse), is also in the 7th place.
Despite Barış Arduç's leading role in a series like Alparslan, which received very high ratings, Doğukan Güngör was ranked 9th in the list, and Mert Ramazan Demir, the leading actor of the Kingfisher series, was ranked 10th.
Halil İbrahim Ceyhan, who is only in the first place on the list, is the only name not to appear in a weekly series on a mainstream television channel.
In other words, while other actors took part in projects on television channels that were followed by a large number of viewers, Halil İbrahim Ceyhan achieved a very important success by taking the first place even by taking part in a series on Kanal 7, which was watched by less viewers.