Nurgül Yeşilçay and Afra Saraçoğlu, who were in front of the camera for the first time in the movie "İkinci Şans" shot by Özcan Deniz in 2016, came together this time on the theater stage.
Nurgül Yeşilçay and Afra Saraçoğlu's two-player play "Bir Barda Bir Gece" made its debut in November last year.
In the play of DasDas Sahne, where Yeşilçay returned to the stage after a long hiatus and Saraçoğlu made her theater debut for the first time, two famous names drew attention with their performances.
The duo is currently on tour. Nurgül Yeşilçay and Afra Saraçoğlu met with theatergoers from Antalya last night with the play Bir Barda Bir Gece. The duo, who were greeted with enthusiasm in Antalya, also shared these moments on their Instagram accounts.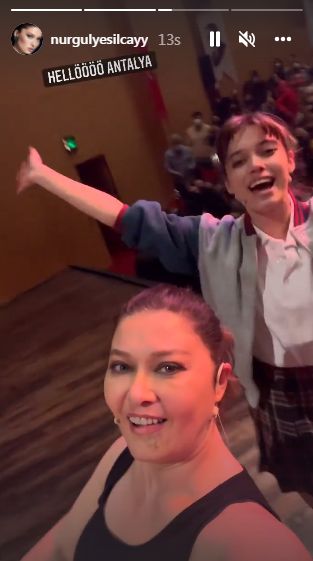 "Bir Gece Bir Barda" by Lulu Raczka, which reveals a dystopian world, is a world where women get lost during power cuts that start every evening, and the tension and question marks between a girl in uniform who go to the bar to find her friend and a woman who is the only employee of the bar. takes a night to its center. Nagihan Gürkan is directing the play, in which the audience will witness a dystopian world not far from the present.
Bir Gece Bir Barda, a two-actress play by Nurgül Yeşilçay, one of the most important stars of Turkey, and Afra Saraçoğlu, one of the brightest names of the new generation, will meet with theater lovers on Thursday, January 27, 2022 at 20.30 at DasDas Sahne.