The shooting of the third domestic series of the Disney Plus platform, Avcı, which started broadcasting on June 14, had started a short time ago. Pınar Deniz, who won great acclaim for her character Ceylin in Kanal D's Yargı (Judgment) series, is among the actors with whom the platform has made a deal. The actress, who has experienced another leap in her career with her rapid exit lately, started the shooting of her new series as soon as Yargı made the season finale.
It was announced a while ago at the press conference of the platform that the name of the TV series in which Pınar Deniz plays is Avcı (Hunter). Curiosity is at its peak for the third series of Disney Plus, the Avcı, whose shooting started after the first domestic TV series Escape (Kaçış) and then Dünyayla Benim Aramda (Between the World and Me).
Pınar Deniz also stated that she was very excited by attending the press conference from the first set day. The fact that the actress, who gave life to a lawyer in the Yargı, will play a serial killer in Avcı, already excites the audience.
While the shooting of the series, in which she shared the lead role with Uraz Kaygılaroğlu, continues, some of the actress's posts from the set increase the curiosity even more!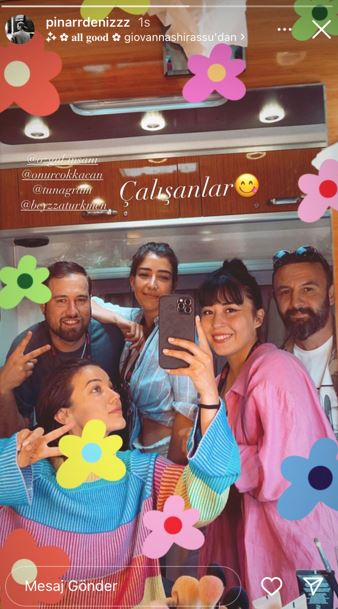 The actress shares some of the behind-the-scenes preparation process of the series. She shared a moment with the team behind the camera with a pose she took while her makeup was being done.
Later, she published a photo shared by Tolga Tekin on her own page. The actress added a heart emoji to the photo published by Tolga Tekin with the note "There is shooting" Ahmet Rıfat Şungar and Şebnem Hassanisoughi also star in the series directed by Soner Caner.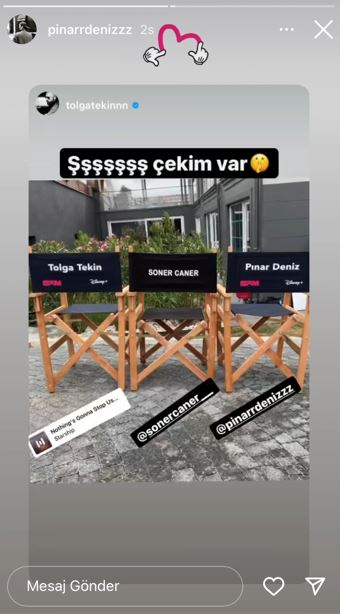 It is known that Disney Plus continues the shooting of its series with great secrecy. The actors are especially asked not to give information about the productions they took part in. Demet Özdemir also dismissed the questions about Dünyayla Benim Aramda and said that she was forbidden to speak.
In general, actors share lots of videos and photos from the sets of TV series. Their posts, being careful not to give tips, are watched with interest by followers on social media. Therefore, Pınar Deniz's posts that did not give tips but still came from the set were the ones that made her followers happy…