Actor Berker Güven, who gave life to the character of 'Somer' in Kanal D's Üç Kız Kardeş (Three Sisters) series, which is one of the TV series that made the fastest debut of the season, is going through good times both in his career and in his private life.
The heart of the talented actor is with another colleague for a long time! Berker Güven has been in love for a long time with the successful actress Nihal Yalçın, who came to the screen with Show TV's Oğlum (My Son) series last season.
The couple, who live their relationship away from the eyes, surprise their followers from time to time on social media and share their photos together.
A new photo of the famous couple has arrived. Nihal Yalçın celebrated her lover's birthday with a social media post. Born on September 7, actor Berker Güven turned 28 the other day.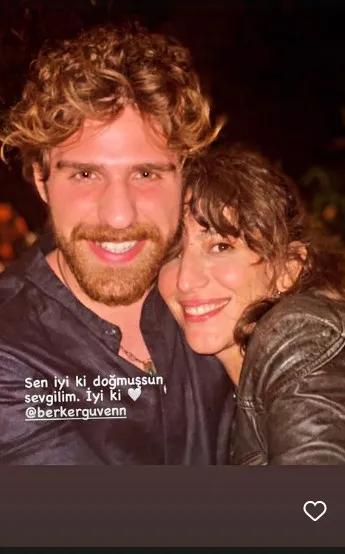 Nihal Yalçın shared her photo with her lover on her Instagram account and said, "I'm glad you were born, my love. It's good that!"
Berker Güven will be on the screen again in the new season with Üç Kız Kardeş, which attracts attention with its drama story. The actor also got along well with his partner Özgü Kaya in the series.
The story that the audience watched most curiously was the story of Somer and Türkan. Somer, the frivolous rich boy who was married to a girl he didn't want by his mother, gradually fell in love with Türkan.
While the audience watched the love of Türkan and Somer with great interest, Özgü Kaya, who gave life to Türkan, and Berker Güven, who played Somer, were also compared to each other as a screen couple.