The 28th episode broadcast date of the Alparslan Great Seljuk series, which is preparing to start the second season like a bomb, was announced as Monday, September 19th. After the departure of Fahriye Evcen, Barış Arduç remained alone in the lead role, while new names were included in the series. Serhat Tutumluer, Kayra Zabcı, Bora Cengiz, Umut Karadağ and Öykü Gürman will work together with the team for the success of the series in the new season.
Alparslan Great Seljuk will attract great attention in the new season with its strong cast, magnificent decor and impressive scenario. Öykü Gürman, who is expected to be one of the important names of the series in the new season, is also eagerly waiting for the second season of the series to start.
Öykü Gürman, who carries out singing and acting together, won great acclaim with the character of Asiye in the TV series Sen Anlat Karadeniz. Öykü Gürman, who we watched in the last 4 episodes called Gel Dese Aşk, is also a name that appears on the screen by making television programs.
A busy period awaits Öykü Gürman, who continues her concert programs and also appeared on the set for the series. The actress, who took both horse riding and sword riding training for the series, said, "It will start in September. By the way, when I had the opportunity, I went to riding school. I keep going whenever I get the chance," she said.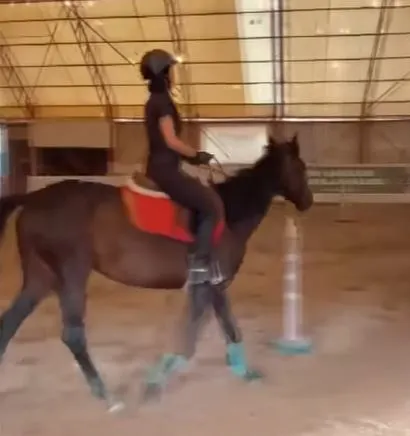 The actress, who had to use a sword in the fight scenes as well as riding a horse, mentioned that she had no difficulty in the scenes. Öykü Gürman said, "No, I don't have any difficulties. I love it, I'm even excited, I want it to start as soon as possible. It is very enjoyable to use swords in particular," she said.
Stating that it was difficult at first to get used to the costumes in the series, but later she overcame it, Öykü Gürman said that she got used to it in a short time because she loved it.
Taking part in a very influential TV series such as Alpraslan on behalf of Öykü Gürman is seen as an important acting step. Gürman, who moved away from the series after making a strong impression with her successful performance in the TV series Sen Anlat Karadeniz, will have the opportunity to show her talents to her fans on the TRT1 screen again thanks to the Alparslan Great Seljuk project. The Alparslan series is very important for the career of the actress.
Öykü Gürman, who also starred in the movie Bandırma Missile Club, is also excited that this movie will be released on October 21.