17-year-old Su Burcu Yazgı Coşkun, who gave life to the character of Asiye in the TV series Kardeşlerim (My Brothers and Sisters), is one of the most popular actors of the last period, especially among the younger generation! Because the young actress did not leave the first place in the list of the most popular female actors on social media for months!
Together with her partner in the series, Onur Seyit Yaran, they were at the top of the "most popular female-male actor" tables as the names that shook the social media. Su Burcu Yazgı Coşkun was at the top of the list with her closest rival Özge Yağız and Rabia Soytürk for a long time. However, with the new TV series coming to the screen, these names started to lose their place in the table!
The first name to rise gradually was Sıla Türkoğlu. Sıla Türkoğlu, who gained a huge fan base especially abroad after taking part in two-day series such as Yemin and Emanet, is currently on the screen with the Show TV series called Kızılcık Şerbeti (Cranberry Sherbet).
It coincided with the fact that Türkoğlu began to be talked about visibly on social media right after it was learned that she would play in this series.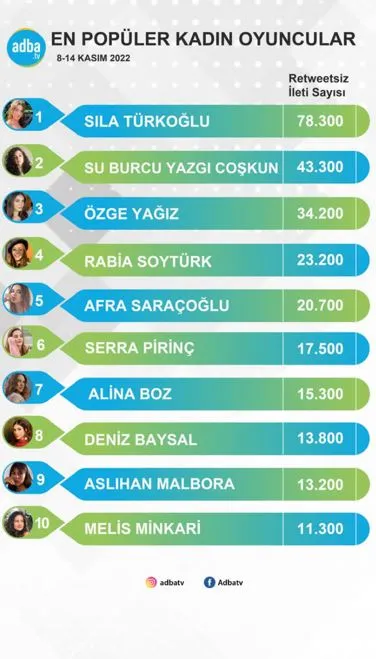 The actress quickly managed to take the first place on Adba.tv's 'Most Popular Actress' list, which she has been in for a few weeks!
According to the numbers determined by the number of messages from the audience during the week of 8-14 November, Sıla Türkoğlu has made a big difference in addition to taking the throne of Su Burcu Yazgı Coşkun, who has not left the summit to anyone for months!
While the number of messages sent to Türkoğlu was 78,300, the number of messages to Coşkun was 43,300. Another name that is taking firm steps forward on the list is Afra Saraçoğlu! It is seen that the number of messages sent to the player last week was 20 thousand 700.