The shooting of the series Bir Küçük Gün Işığı (A Little Daylight), which is one of the ambitious productions of the new season of ATV, which brings together Seray Kaya and Berk Oktay, started a while ago. Curiosity and excitement also increased after the frames from the shooting of the series in Venice were reflected on social media.
With the departure of Berk Oktay from the Yasak Elma (Forbidden Apple) series at the end of last season, the followers of the series were upset. However, the actor returns to the screen with a completely different character and story in the new season. This time he became a partner with Seray Kaya.
Seray Kaya continues to make the viewers get the opposite corner after her character, Şirin, which she played in the TV series Kadın (Woman). She also appeared in front of the audience as a lawyer in the series Mahkum (Prisoner) last season. While the successful actress's departure from Mahkum was surprising, it was learned that Seray Kaya agreed with the TV series "Bir Küçük Gün Işığı" in the new season.
Berk Oktay and Seray Kaya are acclaimed names with their strong acting and performances in the productions they take part in. The story of the series that brought these two names together was a matter of curiosity. With the shootings in Venice, there are developments that increase the excitement…
After the shootings in Italy, the team returned to Istanbul and completed the preparations and the Istanbul shooting began. The series, which has a story full of secrets, is on social media with the statement of some viewers that it has similar aspects with the Maraşlı series.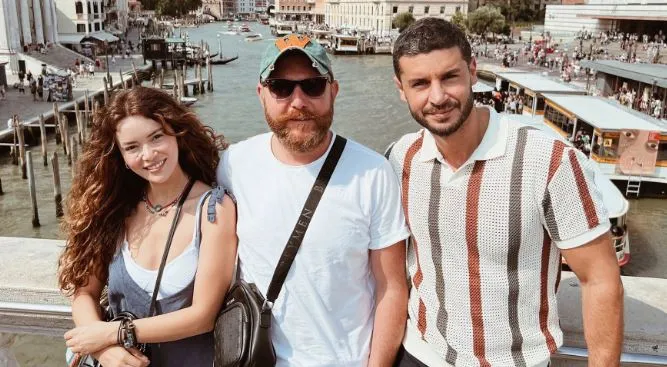 The fact that many characters are people who hide their true identities is similar to the Maraşlı series. Surprising developments await the audience with the opening of some secrets after a death. The story of the series Bir Küçük Gün Işığı hides secrets that will arouse the audience's curiosity.
While the happy marriage of a wedding organizer named Elif, brought to life by Seray Kaya in the series, with her friend Hakan, whom she has known since school years, draws attention, the fact that everything is turned upside down with a sudden death takes the story to a completely different place! After the facts revealed with the death of her husband, it will be learned that Elif's life is a complete fairy tale and completely different facts are kept secret.
Another interesting aspect of the story is that Fırat, played by Berk Oktay, supports Elif in her difficult days and is also a part of a big secret…
We will probably talk about the series Bir Küçük Günışığı, which is expected to be a series that will surprise the ATV audience with secrets and facts this season, in the coming days.