Famous actress Miray Daner made a big breakthrough with the character of "Hilal", which she portrayed in the TV series Vatanım Sensin. After this role, the actress, who received leading offers, came to the screens with the TV series Kara Tahta (Blackboard), which was broadcast on TRT1.
On the other hand, Miray Daner, who made a name for herself with the TV series Kuş Uçuşu (Bird Flight) on Netflix last summer, received praise for her performance in the character of "Aslı" in the series.
After the success of the first season, it was decided to shoot the second and third seasons of the Kuş Uçuşu series, which focuses on the conflict of generations on a television channel. Together with Miray Daner, the shooting of the series, in which Birce Akalay, İbrahim Çelikkol, Burak Yamantürk and İrem Sak also starred, has started.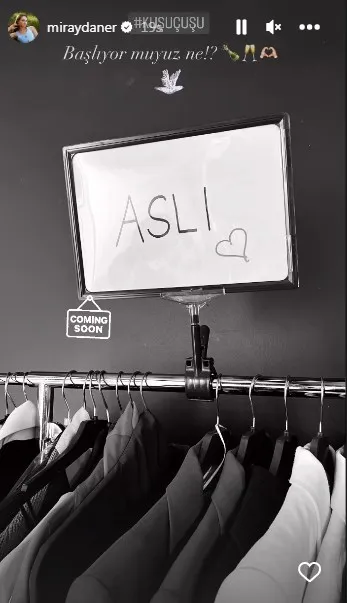 Actress Miray Daner, who posted the photo of the serial costumes from the set on her social media account, shared; "Are we starting what?" downgrade.
Birce Akalay, Miray Daner and İbrahim Çelikkol take the leading roles in the series, which is eagerly awaited by Kuş Uçuşu fans, the first season of which has received great acclaim and resonated in many countries around the world. In the second season of the series, master actress Tilbe Saran will take a role.
Tilbe Saran is a name that started serials in the 1980s and has given successful performances in various projects until now. Tilbe Saran, whom we watched in various roles in influential TV series such as İntikam, Şeref Meselesi and Cesur ve Güzel, attracted great attention on television with the character of psychiatrist İdil in the latest İstanbullu Gelin (Bride of Istanbul) series.