In the world of television, one season has come to an end and decisions are being made about TV series. The Adım Farah (My name is Farah) series will continue in the second season and it is said that there is a 26-episode guarantee for now.
The fate of the Gülcemal series is uncertain, but Fox TV's spending on this project angers the audience. The projects of Adım Farah and Gülcemal, both broadcast on the same channel, can get close to average ratings, but they weren't able to do so, although they were expected to get much better ratings.
Adım Farah made the season finale with its 14th episode and will continue on its way in the next season after the great interest it has received from abroad. The Gülcemal TV series was also a project that gained recognition abroad, and its fate is very curious. It is unclear whether Gülcemel will be on the air in the second season, but the audience definitely wants it to be broadcast.
It is noteworthy that both series were in the top 3 in the list of the most popular TV series prepared by Adba TV during the week of May 22-28. The Yalı Çapkını (Golden Boy) series, which marked the season with its ratings, is again at the top of the list. This is normal and acceptable.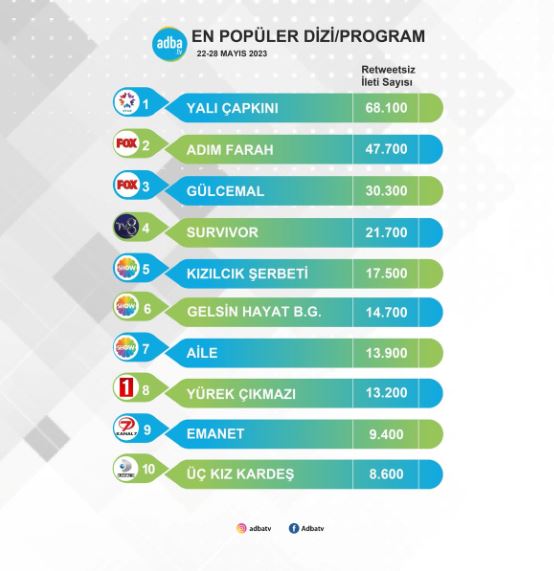 However, there are some productions that could not be included in this list despite receiving much better ratings. When these rating champion TV series are considered, you can see that the projects of Adım Farah and Gülcemal have done a very successful job on social media despite their near-average ratings.
Of course, this proves another fact. There is no such thing as a well-liked series on social media will achieve very good results in ratings.
In the research conducted for the last week, the ratings of Yalı Çapkını, Kızılcık Şerbeti (Cranberry Sherbet), Aile and Üç Kız Kardeş (Three Sisters) are quite good in the most popular TV series list. However, it is difficult to say for other productions.