The series, which received the highest ratings of the season and did not fall on the agenda on social media, also attracts attention with the mutual harmony and scenes of two young actors Afra Saraçoğlu and Mert Ramazan Demir.
The two young generation actors, who gave life to the couple Seyran and Ferit with their successful performances, also managed to become the most remarkable names of the last period!
The duo, who previously appeared in front of the camera together in the Öğretmen (Teacher) series, became the screen couple that the fans of the series are closely following with the Yalı Çapkını (Golden Boy).
Afra Saraçoğlu and Mert Ramazan Demir, who became popular names with the comments made about them on social media, posed for a magazine together recently.
This time, the two actors, who are in front of the lens, are also receiving attention on social media by their fans with their poses.
Two actors were on the cover of Hello magazine's Best Of issue, where they discussed the highlights of 2022.
Following the release of their poses together, fans showered the duo's cover art with lots of comments and likes…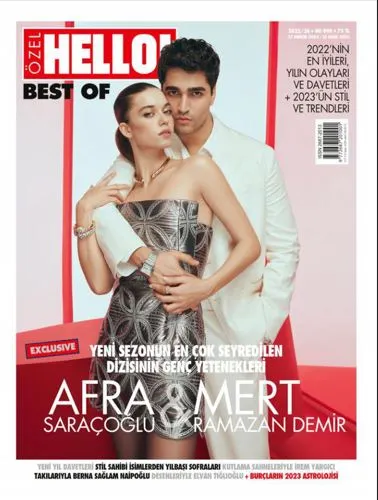 In the meantime, the camera recordings during the shooting were also released.
The video, which was also shared from the official social media account of the Yalı Çapkını TV series, received great attention from the fans of Afra Saraçoğlu and Mert Ramazan Demir.
Afra Saraçoğlu ve Mert Ramazan Demir BEST of HELLO! kapağında. ❤️#SeyFer @afrasaracogIu @mertramazandem pic.twitter.com/CQGZl1Ndon

— Yalı Çapkını (@yalicapkinidizi) December 24, 2022