Ahu Türkpençe was born on January 2, 1977 in Samsun. Turkish TV series, cinema and theater actress.
Name: Ahu Türkpençe
Date of Birth: January 2, 1977
Place of Birth: Samsun
Height: 1.70 m.
Weight: 54 kg
Horoscope: Capricorn
Eye color Hazel
Siblings: Gözde Türkpençe
Instagram: https://www.instagram.com/ahuturkpence/
Pets: She has a dog and a cat.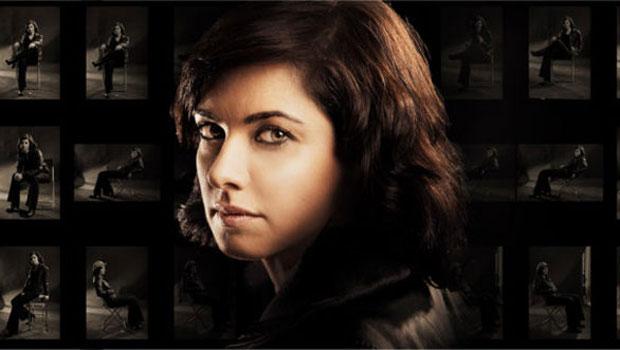 Family: Her father, an engineer, passed away. She has a computer engineer brother and a ballerina sister. "I lost my father without going to the theater. He was supporting me on my way to my pantomime. But as a typical father 'You will go to both college and this. Not if your lessons are bad ". I am the middle. In general, the cherished child is the last, and so was ours. But being a median also has the following benefit; The median is boiling while parents are struggling with "first child-last child". Meanwhile, I was boiling and getting stuck. "
Childhood years: She never thought of being an actress until she was 18 years old. As a child, she wanted to be either an ice cream maker or a fisherman so she could eat lots of ice cream and fish. "I remember my mother taking me to the children's theater when I was little, and even when I saw Adile Naşit, I went up on a stool to kiss her. Also, when Adile Aunt passed away, I was very sad and somehow offended by the theater. Then I didn't go to the theater for a really long time, until the conservatory. Of course, if I had my current mind, I would go to a different game every week. I enjoy not only acting, but also watching beautiful performances and plays. When I was in high school, I loved physics lessons. That's why I studied Physics at Yıldız Technical University. Fortunately, it did. But at that time my mind shifted to the theater. I switched to the conservatory. After I graduated from there, I also finished physics. I discovered that math acumen is very useful in acting. It provides an extra practicality. "
Education life: She graduated from Yıldız Technical University Physics Department. She also studied acting at the Müjdat Gezen Art Center.
First step into acting: She started her television adventure with the 'Expats' (Gurbetçier) series.
With which project did she shine? She drew attention with the character of "Esma Kozan" in the TV series "A Tale Of Istanbul" (Bir İstanbul Masalı).
Personality traits: Calm, naive, friendly and energetic. She describes herself as 'an ordinary person'. "I am like everyone else. I do not put myself in a different place than the audience watching my work. Like everyone else, I am sometimes fragile and sometimes very tough. There are times when I shut myself down because of being afraid of being hurt like many others, and times when I am brutal and hurt those around me. What I'm trying to explain is that we're all basically the same. We react completely differently to different situations at different times, but our feelings are the same. It is these common feelings that bind us together. "
Mindset: Let me be famous, they do not have any problems like not getting off the TV. So if it cannot do a better job and is forgotten, it will not be destroyed. "If they don't like my next job, sit down and' Ahu stupid. "You should have played it like this, not like this." Whatever job you are in, as long as you spend effort. Then your work shows itself. Of course, new names will come out. I don't see myself competing with them. Everyone is unique and special. Everyone's job, his own destiny.
Source of happiness: She feels lucky in terms of the characters she has portrayed and the people she has worked with. "I am so lucky that I am always chosen by very bright and talented people, and in return, I try to do my best to keep the team's trust in me.
First motion picture: Ezel Akay / Neredesin Firuze?
Her gaze on love: "Love is a beautiful thing. I wish everyone could fall in love. Love is not something that can only be heard for a lover. You can love and make a work or profession. I am one of those who can do their job with love. "
Her view of life: She does not like to come up with her private life. "The breakfast I have in the morning, my friends, the places I go with them are also my private life. I want to keep it to myself that I can take advantage of my private life and add something to my acting. If I explain everything and spread it around, I won't be left with anything. I think doing it lovingly gives a person extra strength and happiness, so leave my young friends what is imposed on you, what do you want to do, look at what you want to spend your life doing. The profession you choose will require you to give up many things, maybe you will have to work from scratch, maybe it's too risky; I still say take this risk and try it. I think the biggest injustice you can do to yourself is not to try. "
Her view of business life: She likes the "being able to be whatever you want" feature of acting the most. She finds it very enjoyable to have the luxury of being everything through her profession. "I can be a doctor, a lawyer, a cleaner or a superhero and fly. You can really be whatever you want. The job involves someone writing and someone else wanting to shoot this script and offering you the role. My job is really fun. My priority is to do my job correctly, and whether the work will work is the discretion of the audience. Of course, I wouldn't be happy if the drama I played didn't work, but even if I did my part, I wouldn't blame myself and feel sorry. Sometimes the factor of luck is also very important because. "
Career plan: As long as she lives, she wants to exist in TV series, theater and cinema. It does not separate any one from the other. Since she has never done comedy, she wants to be in a production that includes comedy. The magic of cinema and theater is of course much greater and indispensable compared to the series. Comedy. I would love to play. Especially making comedy on TV is very difficult. I would like to have a lot of good writers like Gülse Birsel. But if you gather a few people. Good things come out of us that we will adapt from abroad. Then of course I would like to play. "
Concerns: Being a woman in every region of the opinion that it is difficult "even more difficult in Turkey. Being a woman is an advantage, matriarchal sums are also valid. When we returned to a patriarchal society, then the world changed. It is necessary to change the mentalities that divide us into men and women. The main goal should be to be human and to take back the right to freedom that man had at birth. Liberating women should be the problem not only of women but also of men. "
Role model: She does not have a role model, she wants to take her place in this business and create her own line. "Of course, I adopted the principle that is the most important thing that all the master players say and I think. What I'm always after on stage is 'to be sincere and real'. "
Who does she admire? Her favorite director is Mike Leigh. "One day I watched a movie called 'Happy Go Luck' at the festival. Its director is Mike Leigh. I said, "What a beautiful movie." Then I caught my eye on the DVDs under my TV at home. I have a look, I have movies. It turns out I was a fan of the man. "
What are you most angry about? Being forced for something she doesn't want to do. She is very uncomfortable when her freedom is lost.
Relationship with nature: She prefers to live in greener areas. She has a cat and a dog. She does her best for nature individually. "I pack the papers separately, pack the pet bottles in separate bags and put them in their money boxes. I go shopping with cloth bags. I put water in containers for the animals. I leave meals at certain points. "
What does she do at home? She's not good with the kitchen. She listens to lots of music and reads books when she is at home. "There are times when I expel everyone and read books in particular. I like being quiet and alone. I can usually finish a book in a day. There are books that I can't get enough of and that I read constantly. For example, I love Murathan Mungan's books. I try to read a little and extend it so that it doesn't end. "
What does it spend money on? She sees money as a tool and doesn't want more than enough. "I cannot give a certain amount, but I have no ambition like" I have eight houses I have to buy another. " If I have more money, I can help with animal shelters. I try to do something to the children. The shroud has no pocket! "
TV SERIES
2019- Behzat Ç: A Story Of A Rebel Cop / Defne
2018- Börü / Asena Tümer
2013 / 2014- Conscience (Vicdan) / Keriman
2008- Caramel (Karamel) / Zehra
2007 / 2008- Farewell Rumeli (Elveda Rumeli) / Bihter Nurse
2006- Code Name
2005- Fame / Gülşen Özer
2004- A Tale Of Istanbul (Bir İstanbul Masalı) / Esma Kozan Arhan
2002- Azad / Dilan
2000- Number Seven (Yedi Numara) / Seher Menekşe
1999- What Happened to Us? (Bize Ne Oldu)
1998- Good Days (Güzel Günler)
1996- Expats (Gurbetçiler)
CINEMA FILMS
2016- Dağ II/Ceyda Balaban
2013- Köksüz/ Feride
2011- Kaybedenler Kulübü/ Zeynep
2010- Denizden Gelen/ Yaren
2008- Dinle Neyden
2007- Hicran Sokağı/ Leyla
2006- Keloğlan Kara Prense Karşı/ Bal Kız
2004- Neredesin Firuze/ Aysen
THEATRE PLAYS
2017- Patates
2016- E- mülteci.com
2010- Sondan Sonra
İyi ki Varsın
Vişne Bahçesi
AWARDS
2013- Adana Golden Boll Film Festival / Best Actress / Köksüz
2011- Afife Theater Awards / Most Successful Actress of the Year / Sondan Sonra
2010- Direklerarası Theater Awards / Best Actress / Sondan Sonra