The shining star of the screens, Pınar Deniz, has recently made a name for herself with the poses she gave to a clothing brand that she is the face of.
The talented actress, who came to the screen with the second season of the Yargı (Judgment) series broadcast on Kanal D in the new broadcasting period, went before the lens with the new designs of NetWork's Autumn/Winter 2022 campaign. Pınar Deniz received commendable comments from Dilan Bozyel, who photographed her.
Photographer Dilan Bozyel used the following statements about Pınar Deniz; "There are many successful Turkish actresses in our country with beauty, sparkle and energy that will not look like world stars. This is a great success because male actors in our country are not at such global standards."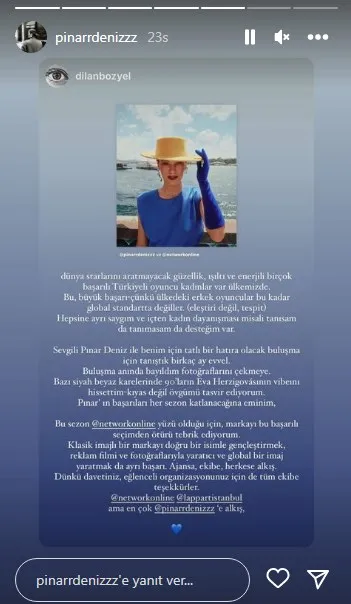 Expressing that she loves photographing Pınar Deniz, Bozyel compared Pınar Deniz to the famous Czechoslovakian model and actress Eva Hergizova and expressed her admiration for the actress with the comment, "I saw Eva Hergizova of the 90s in some black and white frames."
 

Bu gönderiyi Instagram'da gör

 
The actress, who was in front of the lens with yellow and petroleum green, brown, burgundy, khaki and dark blue colors, and camouflage patterns inspired by nature in the brand's new collection, dazzled with her beauty in the promotion where she wore classic masculine suits with an up-to-date look.