Burcu Biricik successfully gives life to the character of Nalan in Kanal D's popular TV series Camdaki Kız. The actress had a leap in her career after the character of Hülya, which she played in the TV series Hayat Şarkısı.
Just before the Camdaki Kız series that started last season, she received great acclaim with her character Boncuk in the Kırmızı Oda series. The actress became a partner with Feyyaz Şerifoğlu, with whom she was a partner in that series, and later in the Camdaki Kız.
Although she plays Nalan, who has a heavy dramatic story and can't get over her gloom, in Camdaki Kız, she is an extremely surprising, fun, lively and cheerful personality in her real life.
In her social media posts, the adventure-loving side of the actress is also seen in the photographs she published with her husband Emre Yetkin from their travels to different countries. Her humble and sincere personality is also the part that her fans love the most.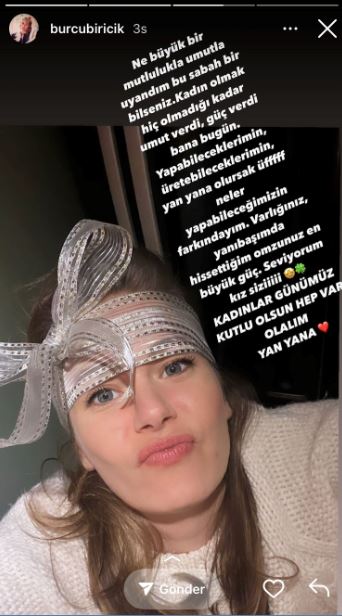 Burcu Biricik did it again on March 8, International Women's Day! The actress posed with a ribbon tied to her forehead. Her words, written in a sincere and humorous language, also drew attention under her pose that made everyone smile.
"If you only knew, I woke up this morning with a great happiness and hope… Being a woman gave me hope and strength today more than ever before. I am aware of what I can do, what I can produce, and what we can do if we are together. Our presence, your shoulder that I feel next to me is the greatest strength. I love you girliii… Happy women's day, let's always exist side by side…" the actress wrote in her message…