With the first episode of the TV series "Tetikçinin Oğlu" (Shooter's Son), it made a remarkable debut on the Fox TV screen on Tuesday evening. Especially the fans of Timuçin Esen and Şevket Çoruh have been waiting for the series for a long time.
While the story of the series, which is an action story, attracted a lot of attention, some scenes of the series were also talked about on social media.
One of these scenes was Şevket Çoruh's reference to his character in the TV series Arka Sokaklar (Back Streets). The other one came from Özgür Ozan. Ozan gave very meaningful support to his close friend Şevket Çoruh in the TV series "Tetikçinin Oğlu".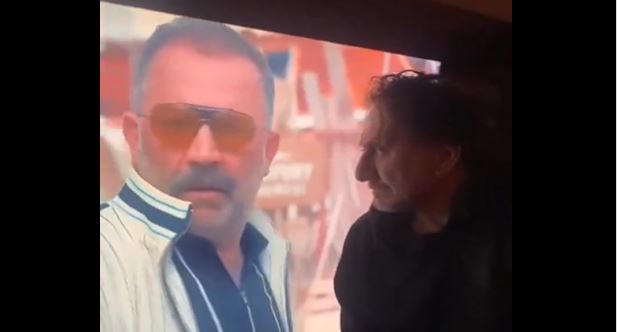 The image of Özgür Ozan, with whom he worked for 16 years in the TV series Arka Sokaklar, on social media also attracted attention.
Özgür Ozan showed with the video he shared that he was watching his friend's new TV series, and when he saw Şevket Çoruh on the screen, he showed his love for him by kissing the TV.
The fans of the Arka Sokaklar series also showered Özgür Ozan's attitude on social media with admiration. The images of Özgür Ozan were one of the most talked about moments in the social media environment.
Hüsnü başka evrende Mesut'unu görürse.🤣#tetikçininoğlu pic.twitter.com/hARYaWQOJA

— yaşlıruhlubirgenç (@meervoss) April 11, 2023
Şevket Çoruh's greeting to the character of commissioner Mesut, which he played for 16 years in the series, also impressed the fans of the series.
In the comments on the social media, this was interpreted as sending greetings to commissioner Mesut. "You came alone, where is Mesut Commissioner? Is he retired or not?" His words impressed the audience.
Şevket Çoruh'tan Mesut'a selam gelmiş 🥲 #TetikçininOğlu pic.twitter.com/wUOj5a43VD

— dizicibaĞyan (@DiziciBagyan) April 11, 2023
The character of Mesut, played by Şevket Çoruh, made his mark in Turkish TV series history.
While allegations were made that the Arka Sokaklar project could continue from where it left off next season, Şevket Çoruh made it clear that he would not return to Arka Sokaklar again with his reference in his new series.