Burcu Biricik, Nalan of the TV series Camdaki Kız (Girl in the Glass), took her fans back years with a post she made on her social media account.
Burcu Biricik, who starred with Barış Arduç in the Kuzgun series broadcast on Star TV screens in 2019, shared a photo of her with her ex-partner on her Instagram account and tagged Barış Arduç.
The sharing of the actress enchanted the fans of the duo. Barış Arduç moved Burcu Biricik's post to her Instagram account and put a heart emoji.
The photograph also includes Ali Bilgin, who was the director of the Kuzgun TV series at that time.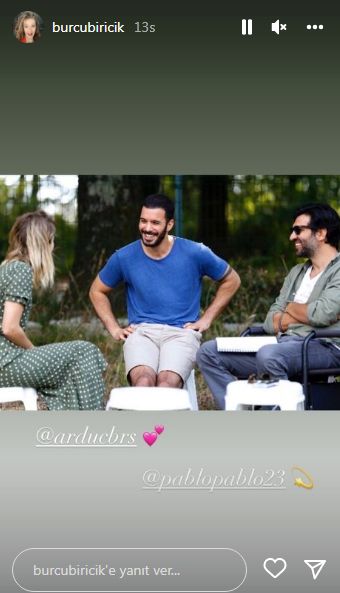 Barış Arduç and Burcu Biricik were in front of the camera together in the series Kuzgun, which lasted 2 seasons and shot 21 episodes. The actors, who were acclaimed for their harmonious screen partnerships, had a successful performance, but when they could not get the expected ratings, the channel decided to end the series in the 21st episode.
Two famous actors are now continuing their success with their new projects. Barış Arduç comes to the screens with his TV series Alparslan Büyük Selçuklu, which is broadcast on TRT1. Burcu Biricik is on the agenda with Kanal D's Camdaki Kız series.
Barış Arduç is also experiencing another excitement at the moment. The actor, who is married to his colleague Gupse Özay, is preparing to become a father. Announcing that she is pregnant, Gupse Özay will give birth to a daughter in 3 months.