Duy Beni (Hear Me), young actors Rabia Soytürk and Caner Topçu, who starred in the TV series, are considered to be one of the most successful TV series couples of the season. The duo, who portrayed the characters of Ekim and Kanat, achieved a successful harmony and the audience is very pleased with their situation. Duy Beni has become a popular production among young people and is expected to continue to meet with the audience in the winter season.
The impressive harmony of Rabia Soytürk and Caner Topçu and the attention shown to them continue to be material for the media. Two young actors answered the questions that their fans were wondering about themselves on Onedio's youtube channel. The two young names, who showed that they fit in very well with each other and their energy is high, received very good comments from their fans.
While Caner Topçu's tone, diction, politeness, facial expressions and smile received good comments from his fans, Rabia Soytürk drew attention with her beauty, positive perspective and frankness. The duo looked as if they were not partners in a drama, but rather people who had known each other for years and became very good friends. However, it is known that the two young actors met 3-4 weeks before the project started and they did not know each other before.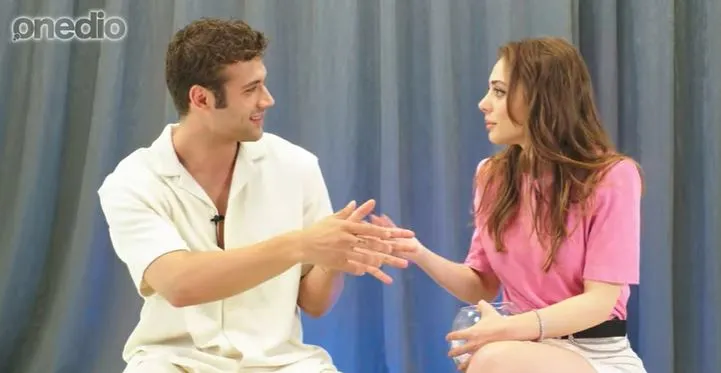 The following comment of a viewer was the common view of those who watched the program: "They are normal partners without exaggeration. The compatibility between them is legendary. The chemistry of the couple is perfect, even when they are distanced from each other, that harmony is felt. I watch the show just for these, they are so beautiful."
Both Caner Topçu and Rabia Soytürk are very open for the future, and they are taking firm steps forward in their acting journey by increasing their experience in the projects they take part in.
There are also many viewers who think that they are the most compatible couple among the series that started in the summer period. Fans of the two actors, who are the center of attention with their sympathetic moods, think that they deserve their roles.
Many TV viewers think that the harmony between the two young actors is the most important factor in their success, and Duy Beni (Hear Me) got a good start thanks to their energy.
Rabia Soytürk had a very successful debut in the drama series Benim Adım Melek (My Name is Melek). Caner Topçu, on the other hand, managed to impress millions by displaying his skills in the latest Barbaroslar series. Now, this duo is giving a very important career test as the leading names of the youth series Duy Beni.