Demet Özdemir and Oğuzhan Koç made fun of the claim of separation! A separation claim was made between the famous couple Demet Özdemir and Oğuzhan Koç… Demet Özdemir prevented speculation by making a post that denied this claim on her Instagram account.
The actress had previously prevented the spread of such allegations by immediately making a statement on social media or implying by making a different post on the unfounded news about her.
Demet Özdemir now knows how to avoid speculation! Demet Özdemir, with the experience of being intertwined with the world of magazines for years, is now able to take control of the situation by sharing on her social media account about the issues she sees as important.
The actress used to do this as a reflex. However, in recent years, when there have been many unfounded allegations about Demet Özdemir, she takes the necessary precautions by using her social media account as a professional attitude.
There are more than 14 million people who follow Demet Özdemir on Instagram, and when a claim is made, the actress immediately shares a post on her account to prevent it from spreading or to reveal the truth.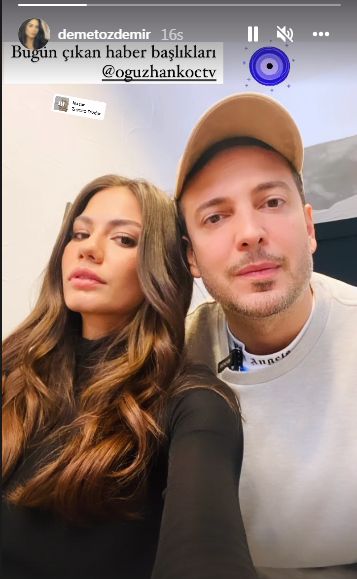 Demet Özdemir creates great interaction by sharing the writings of her fans on all social media, making the truth stand out instead of spreading unfounded news.
The actress used the same method for the news that she broke up with her lover Oğuzhan Koç.
Demet Özdemir and Oğuzhan Koç duo also attended an event and made an appearance together. Özdemir made fun of the separation claim with the following words: "We were very upset. We were in a bad mood, so we came to watch Cem Yılmaz separately. It'll be fixed tomorrow. We chose to sit separately."