The TV series Dünyayla Benim Aramda (Between the World and Me), starring the famous actress Demet Özdemir, was broadcast on Disney Plus last September and attracted great attention from Özdemir's fans.
Demet Özdemir and Buğra Gülsoy, Hafsanur Sancaktutan and Metin Akdülger starred in Dünyayla Benim Aramda, which also made a name for itself with its brave scenes.
Demet Özdemir, who met again with her teammates, shared these moments on social media. The actress posted the pose with the screenwriter Hülya Gezer, director Pınar Bulut, her co-stars Zerrin Tekindor, Buğra Gülsoy, Metin Akdülger and İbrahim Selim on Instagram with the note "There were some floods of love".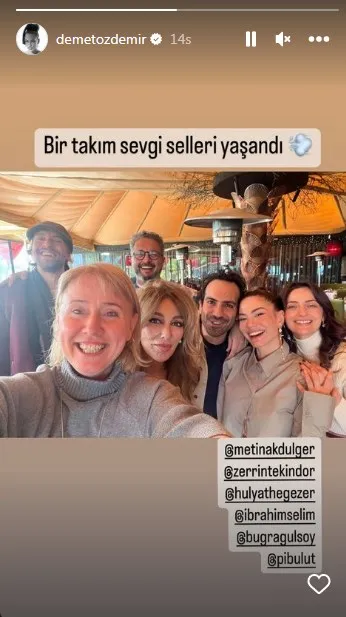 Dünyayla Benim Aramda aired on Disney Plus as 8 episodes. It was also a matter of curiosity whether the second season of the series, whose last episode was broadcast on October 26, would be shot.
Demet Özdemir answered the questions of the press members in this direction, "Ask our producer".
Following the words of the actress, who had a positive stance on the continuation of the series, Asena Bülbüloğlu, the producer of Dünyayla Benim Aramda, stated that they wanted to continue. It turned out that news from Disney Plus is expected on this subject.