Çöp Adam (Stickman) series met with the audience as a successful story in the 2022-2023 season. Çöp Adam, which is a part of Star TV's attack in the new season, has also been a talked about production with its strong story and impressive actor performances.
There were very positive comments on the series, especially on social media. The audience got into the story and carefully followed every detail down to the last detail.
The characters of Peri and Tamer also attracted great attention on social media with the Çöp Adam series, which is a different story. According to the research conducted by Somera, it was revealed that Peri and Tamer, as the most popular TV series couple in the week of May 24-31, took the first place by getting the most messages.
The duo of Elçin Sangu and Engin Altan Düzyatan, who were among the top 5 in the list of the most popular TV series couples before, achieved another important success by winning the first place this time.
Çöp Adam series has become a production that is constantly talked about on social media with its different story and parts where the emotionality peaks. Elçin Sangu fans were saddened by the experience of the Peri character and wanted her to get better.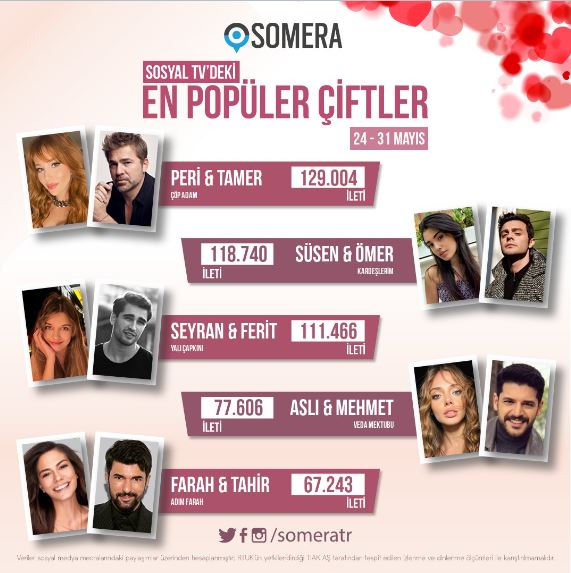 Engin Altan Düzyatan's fans, on the other hand, had the opportunity to experience different emotions on the screen with the Tamer character of the master actor in the series.
Although the Çöp Adam series received much better ratings at first, it has also lost some interest recently. However, it would not be wrong to say that despite this, the series has survived strongly, it has been talked about a lot on social media and the audience is satisfied with the project.
The fact that Peri and Tamer took the first place with 129 thousand messages last week in Somera's 'most popular couples' research reveals the success of the Çöp Adam series.