Demet Özdemir, who returned to the screens with the TV series "Adım Farah" (My name is Farah), gave a successful performance. The first season of the 14-episode series has been completed. Özdemir, who had a very good partnership with Engin Akyürek, was also one of the most talked about names in the social media environment.
Along with Demet Özdemir's successful Farah performance, her fans on social media also offered great support to the actress. In recent weeks, we have seen Demet Özdemir's name in the first place in the weekly "most popular female actors" list made by Adba TV.
But things changed during the week of May 23-29. Merve Dizdar suddenly came and sat at the top of the list. Dizdar's being the best actress at the Cannes Film Festival, where she was a big surprise, also took the social media under its influence.
There were many posts about Merve Dizdar on social media. This interest in the actress also caused Demet Özdemir to lose the title of "most popular actress" to her rival.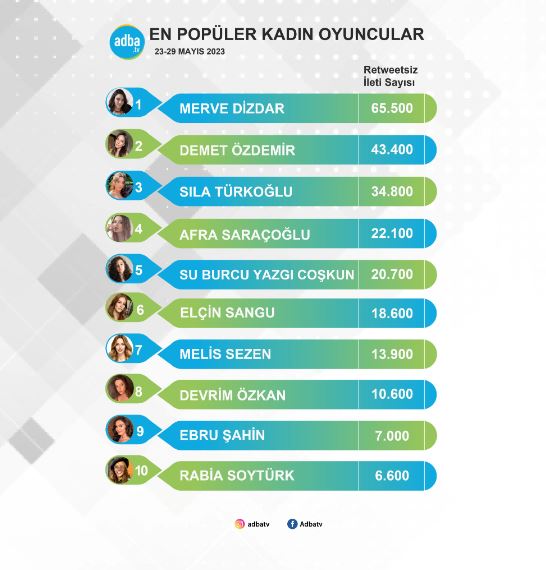 Merve Dizdar took the first place of the list as the most talked-about female actress of the week over 65,500 messages. Demet Özdemir, on the other hand, ranks second with 43,400 messages.
It was also a matter of curiosity how the list, which includes Sıla Türkoğlu, Afra Saraçoğlu and Su Burcu Yazgı Coşkun, will be shaped next week.
Because the series, "Adım Farah," starring Demet Özdemir, made the season finale, and this seems to be a situation that will affect the interaction on social media.