We have been seeing Engin Akyürek's dominance for a few weeks in the "most popular male actors" list created through messages shared about the actors on social media.
The action and drama series named "Adım Farah" (My name is Farah), which met with the audience on Wednesday evenings on the Fox TV screen, created a large fan base. The series, which made the season finale this week with its 14th episode, will continue on its way in September with its second season.
Engin Akyürek and Demet Özdemir fans are very happy that the series will continue. Bridal information points out that, with the effect of overseas sales, it is certain that the TV series "Adım Farah" will remain on the screen for 26 episodes. This means that the series will meet the audience with at least 12 more episodes in the new season.
The audience liked the character of Tahir Lekesiz in the TV series "Adım Farah". Maybe this situation is not reflected in the ratings of the series and the ratios falling below the average cause discomfort. However, Engin Akyürek's fans and especially those who follow him from abroad offer great support.
The fact that "Adım Farah" continues to appear on the screen in the second season is also due to the positive support of the audience from abroad.
For Engin Akyürek, this international support also played an important role in making him the first in the list of "most popular male actors" on social media.
Engin Akyürek, who became the most popular male actor in the week of May 24-30 with 48 thousand 200 messages, has been on the first place for a few weeks.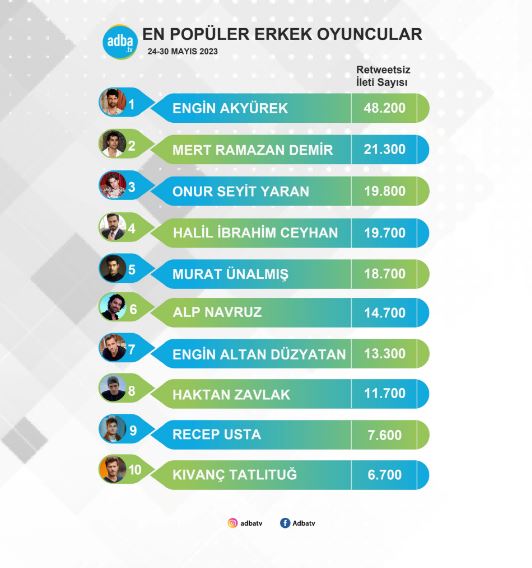 Another detail that draws attention is that Akyürek outdistanced his closest rival by 2 times. Mert Ramazan Demir, the leading actor of the Yalı Çapkını (Golden Boy) series, is in the second place of the list with 21 thousand 300 messages. However, he is not in a position to disturb Engin Akyürek at the top.
This weekly research by Adba TV shows that Engin Akyürek's admiration knows no bounds and viewers do not stop supporting the "Adım Farah" TV series on social media.