Adım Farah (My name is Farah) series was one of the prominent projects of last season. The meeting of two of the most popular actors of recent years, Demet Özdemir and Engin Akyürek, in the lead role was already enough to make the project stand out.
However, those who watched the first season of Adım Farah realized that the story was not fully established and that there were problems in influencing large audiences. The production team of the series was also aware of this situation and the story was renewed with intensive work during the summer.
New names have joined the cast of the series and the audience, who will meet brand new characters, will find a completely different story in the second season. The shooting of the second season of the series has started.
There was an assertive message in the announcement made on social media.
"We have been on the set since yesterday, our excitement was so great that we could not give you this good news. The new season is coming like a bomb, let's say it. Adım Farah, its new season will be on FOX soon!"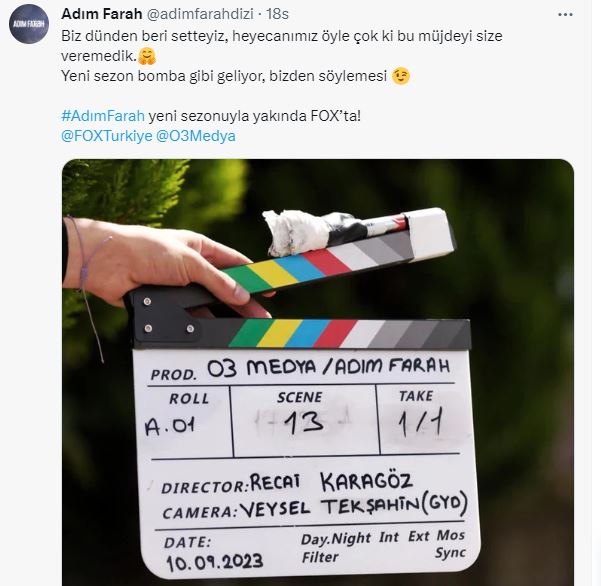 Even this message was enough to excite millions of TV series fans.
The Adım Farah project is of great importance, especially for Turkish TV series fans abroad.
Those who want to watch Demet Özdemir and Engin Akyürek together for a long time wish that Adım Farah will be very successful in its second season.
Fans of the series continue to support the team with strong messages on social media.
It is expected that Adım Farah's social media power will show itself in the ratings in the new season. Of course, this depends on the strength of the story and the team seems to believe in the new season.
Fans of the series, who share posts on social media, give the message that they are very hopeful about the TV series Adım Farah by saying, "We are waiting for an explosive season."