The TV series named 50 Square Meters, which started to be shot before the pandemic, is a project signed by BKM … Engin Öztürk is one of the leading actors of the production that will be broadcast on Netflix.
Engin Öztürk, who plays a role in TV8's popular TV series, My Home My Destiny, will also appear in the 50 Square Meter series that will be broadcast on Netflix. Filming started last month for the series, whose fate was uncertain after the pandemic.
Engin Öztürk, who took part in the filming of two TV series, was admired with his character Barış on tv8. The arrival of the player will bring important innovations in the changing of the story in the House You were Born in.
For the 50 Square Meter series, viewers must wait until January 27. After the announcement made by Netflix, Engin Öztürk announced his new good news to his fans. Here is the post:
50m2 on @netflix on January 27, 2021!
@aybukepusat @netflixturki to @bkmonl to @aksakburak @aydemirsel
Aybüke Pusat said, "Why didn't you post my photo?" he reproached.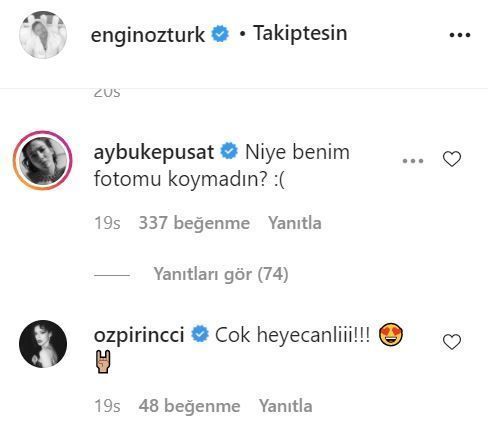 Engin Öztürk, "Are you sure?" Aybüke Pusat asked, "Let me think a little" and replied.
This interaction of the two also pleased their fans. Özge Özp Pirinçci left the note "very excited".
It is a 50 Square Meter black humor type production with a script by Burak Aksak and Selçuk Aydemir as the director.
The other actors of the series starring Engin Öztürk and Aybüke Pusat are as follows: Cengiz Bozkurt, Yiğit Kirazcı, Kürşat Alnıaçık, Özgür Emre Yıldırım, Hasan Yalnızoğlu, Gaye Gürsel, Tuğçe Karabacak, Murat Kılıç, Cansu Dağdelen, Tuncay Beyazıt and Tolga Tekin.