Gözde Türker, who draws attention with her wonderful character in the TV series, Kardeşlerim, has been interested in theater since she was 9 years old. The actress, who graduated from the theater department of Mimar Sinan University and continues her education, is among the most notable actors of the TV series Kardeşlerim.
Gözde Türker, who poses with her pantner Cihan Şimşek in the TV series, Kardeşlerim, is appreciated by her fans on her Instagram account, which has nearly 1 million. Gözde Türker, who also won the 'best supporting actress' award for her role, is also a newly married actress…
The actress, who got married to her fiancé Anıl Güler in July 2021, started the second season of the series Kardeşlerim with the happiness of getting married. Born in Bursa on September 17, 1995, the actress stepped on the sets with the character of Safiye Hatun in the Muhteşem Yüzyıl TV series.
The actress, who is also loved with the character of Melisa, played in the Poyraz Karayel TV series, also appeared in some episodes in İstanbullu Gelin. Gözde Türker, who took the strongest step of her career with the Kardeşlerim project, emphasized the importance of working and taking care of her work.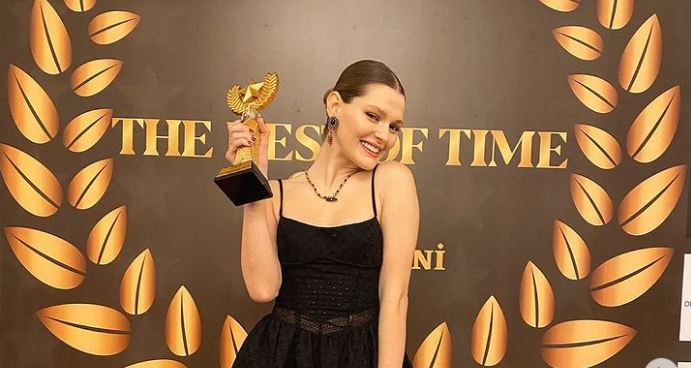 Connecting her award to this, the young actress drew attention with her grace and beauty at the award ceremony.
Filming was stopped for a while because many people from the team of Kardeşlerim series had coronavirus. Gözde Türker explained that she did not have the coronavirus, but that many of her friends had problems.
The actor said, "We got over it well, we came right in. Nobody has a problem. Our shooting is going very well," he said. Fans of the drama must be very happy to hear these words. Because the team had problems for a long time and Kardeşlerim series could not come to the screen for a while.
Stating that she believed she would take part in many projects from now on, the actress married her fiancee Anıl Güler in July. The actress said, "It's going great. My husband has been with me since the beginning of this process, he has been very supportive. Marriage is a beautiful thing," she said.
Explaining that she has no thought of a child, the actress added that she will continue her work.
Gözde Türker not only takes part in a role that gives her the opportunity to come in business life, but also enjoys putting her private life in order.