Yıldız Çağrı Atiksoy, who is very popular with the character of "Malhun Hatun" played in TRT1's Kuruluş Osman series, has been with Berk Oktay, the handsome actor of the screens, Çağatay of the Yasak Elma series for about two years.
Berk Oktay, who proposed to his lover last year, received the answer "Yes" and shared his happiness with his followers on his Instagram account.
The engaged couple plans to get married this year. The last post of Yıldız Çağrı Atiksoy, one of the couple, who often shares their happy moments on social media with their followers, made them say, 'She's already in the family!'
Celebrating the birthday of Berk Oktay's mother Sevim Oktay on her Instagram account, the beautiful actress shared a photo with her future mother-in-law, saying, "Your existence is a great value, great power, I love you so much.. Good luck!" downgrade.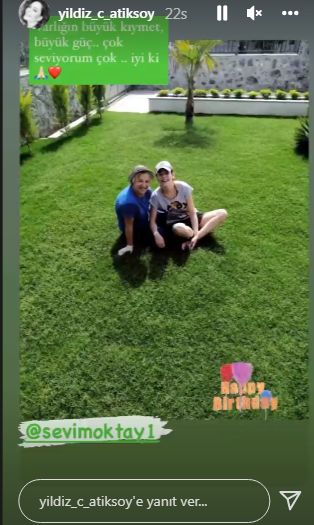 The sharing of Yıldız Çağrı Atiksoy made her fans, who were looking forward to the couple's marriage, very happy. On the other hand, according to the news of Mehmet Üstündağ from Hürriyet Newspaper; The famous couple plans to get married next summer.
According to the information given by Üstündağ; Berk Oktay and his family will ask for his lover from her father on February 2nd. Berk Oktay will buy his flower and chocolate, and will go to Izmir with his mother and father to ask for her. Oktay Family, who will visit Yıldız Çağrı Atiksoy's family living in İzmir, will also wear engagement rings on the same day.
The couple, who both work very hard, want to make the wedding in the summer. A beautiful ceremony and celebration takes place in Alaçatı, in the hearts of the duo, who will organize the wedding according to the condition of their sets.