Nur Fettahoğlu, one of the beautiful and successful actresses of the screens, shared the lead role with Erdal Beşikçioğlu in the TV series "Kağıt Ev", which was broadcast on Star TV. The talented actress, who rested for a while after the series finale, started working on a very ambitious project after the holiday.
Nur Fettahoğlu is preparing to act in a movie with the master actress Şerif Sezer. The name of the movie prepared by Lara 1 Production is 'Siyah At'. Filming will begin shortly. Nur Fettahoğlu shared her image while reading the script of the movie with her followers on her instastory.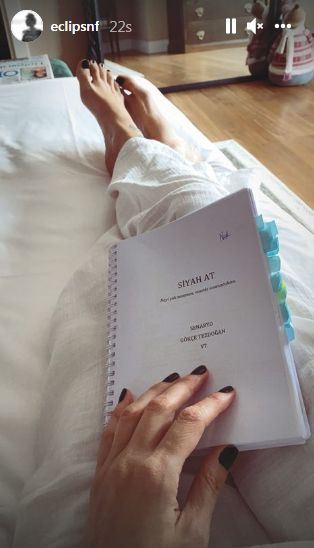 The script of the film, in which Emra Kavuk sits in the director's chair, belongs to Gökçe Tezdoğan. The details of the psychological drama story have not been clarified yet, but Nur Fettahoğlu and Şerif Sezer will give life to the two main characters of the series. Nur Fettahoğlu will portray the characters of "Sümral" and Şerif Sezer will portray the characters of "Nurgül" in "Siyah At".
The film crew will be on set the week of October 14. It is also among the information that there will be no male characters other than a small actress in the film.