Famous Actress Pınar Deniz is not on the agenda with the TV series Yargı (Judgment), which started to appear on the screen last season. The actress, who had a big break with her role in Vatanım Sensin, was also talked about with Netflix's Aşk 101 (Love 101) series. Then she made a quick return to the screen with the character of Ceylin in Kanal D's Yargı series.
Pınar Deniz became a partner with her partner in the series, Kaan Urgancıoğlu, in Aşk 101 and its sequel, Aşk 102. The harmony of the two actors, who have been in front of the camera together for 3 seasons, wins the admiration of the audience on the screen. While the events of Prosecutor Ilgaz and Lawyer Ceylin are watched with excitement on the screen, Pınar Deniz is also preparing to shake it up with a TV series called Avcı (Hunter)!
The actress, one of the brand ambassadors of Disney Plus, was on the set all summer. Right after the filming of "Yargı" was over, the actress started to appear in front of the camera with Uraz Kaygılaroğlu in the TV series Avcı. While the shooting of the series is still in progress, it is expected that the shooting of Yargı will begin soon.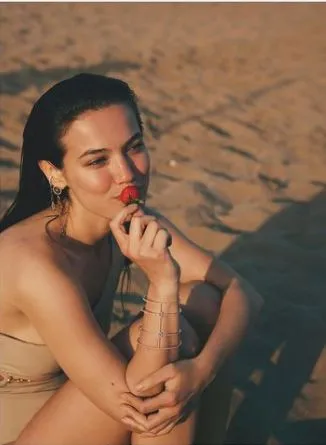 Pınar Deniz's social media account is also followed with interest, during a period with a high tempo in which she will finish one set and run to the next. Deniz showed that the shooting of Avcı is still going on with a post she made recently.
Hatice Deniz, Pınar Deniz's younger sister, had come to visit her sister on the set. On the way, she offered the cookies she made herself to the employees.
Pınar Deniz also stated that Hatice Deniz, who makes her sister proud, is a pastry maker. "My sister has grown up. She became a pastry chef as if she hadn't grown up enough. As if it wasn't enough that she was a pastry cook, she made cookies for the whole set. I love you" also reveals how proud she is of her brother…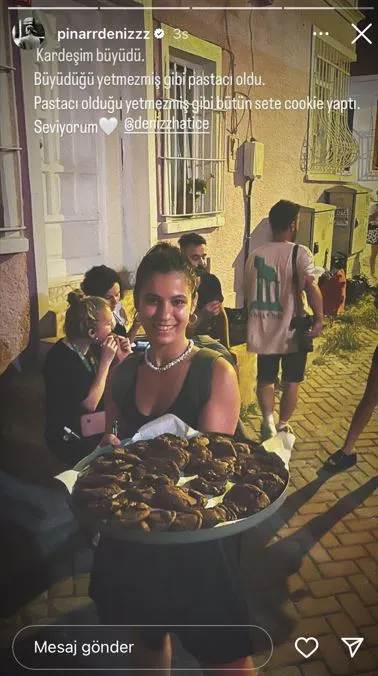 Meanwhile, Hatice Deniz's resemblance to her older sister Pınar Deniz draws attention. Pınar Deniz, who is the daughter of an Arab and Mardin family, has 4 siblings.