Serkan Çayoğlu fans were wondering when he would return to the sets. The actor presented some information with his statement. Serkan Çayoğlu got married to his lover Özge Gürel in Germany last month. The couple's marriage was eagerly awaited by their fans for a long time. The wedding poses reflected from Germany were also very impressive.
Serkan Çayoğlu stated that they received very good comments and that they were very satisfied with the process in Germany. The actor also announced that they were preparing for their wedding in Italy on August 13, but that both he and his wife were reading new scripts in the process.
Expressing that all preparations for the wedding in Italy have been completed, Serkan Çayoğlu will be on the set again as soon as he returns to Turkey. However, Serkan Çayoğlu, who stated that he agreed on a movie, not a TV series, also stated that he would start a busy period.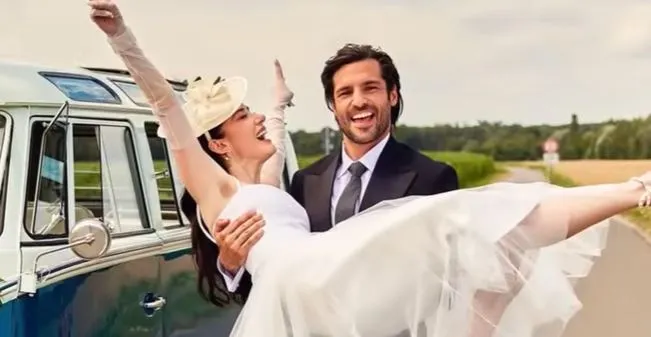 Serkan Çayoğlu also stated that both he and his wife Özge Gürel are in the process of reading and evaluating the script and gave the first good news about new projects.
The actor said, "It will be a movie, I'm working on it at the same time. Other than that, it looks like we're probably going to do something on television," and gave the first signal that he would return to TV series.
Explaining that they plan to have their honeymoon later, the actor will return to work when he returns to Italy and will go to the set for the movie Oregon. Directed by Kerem Ayan, the film will bring a true story to the audience. In the story set in the 1980s, Serkan Çayoğlu will portray a character named Hakan, who works as a tradesman in Bodrum.
Serkan Çayoğlu, who will share the lead role with Aslı İnandık, also appeared in the movie Ah Belinda and shared the lead role with Neslihan Atagül. The actor, who has squeezed two movies into the summer period and is both getting married and preparing for the wedding, continues to read the script for the new series.
Serkan Çayoğlu appeared on the TRT1 screen with the TV series Bir Zamanlar Kıbrıs (Once Upon a Time in Cyprus), which lasted for 2 seasons, and in the second season, with the TV series Kıbrıs Zafere Doğru (Cyprus Towards Victory). The actor said goodbye to this project in December 2021 and has been evaluating the series offers since then, but has not made a clear decision yet.